Early last week, the Nasdaq Composite Index – the bellwether for U.S. tech sector – eclipsed the 5,000 level for the first time in 15 years.
The bears would have you believe this is proof that tech stocks in 2015 are simply surging inside a "bubble" – and that a collapse like the dot-com debacle of 2000 is close at hand.
I'm here to tell you folks that those gloom-and-doomers are wrong.
Over the last two years, I've repeatedly shared my belief that, in the long run, technology shares will beat the broader market – and by a wide margin.
Today I'm going to show you why…
Room to Grow for Tech Stocks in 2015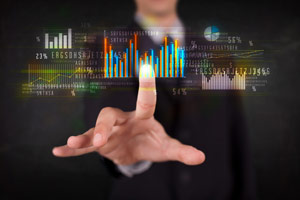 As a senior advisor to Silicon Valley startups at the time, I had a front-row seat for the dot-com meltdown in 2000.
So when I tell you there simply is no comparison between today's Nasdaq and the go-go years of the Roaring '90s, I speak with authority.
Let's start by comparing the pace of tech investing then and now. This gives us a sense of how the "greed factor" affected stock values in the late 1990s.
Data compiled by market-value experts Birinyi Associates reveals that back in the dot-com era it took the Nasdaq just 49 days to rise from 4,000 to 5,000, a climb of 25%.
This time around, using the Birinyi standard, it has taken nine times as long – or 455 days – to do the same thing.
You can look this up yourself. The Nasdaq closed at 4,017 on Nov. 26, 2013, and closed at 5,008 on March 2.
And despite a much larger economy and 15 years of inflation since then, 2015 tech stocks are substantially cheaper today than they were in the late '90s.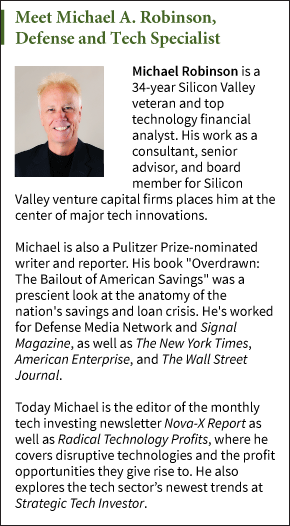 To demonstrate this, let's use a stock-value standard that nearly all investors agree on – the price/earnings (P/E) ratio. By that standard, tech stocks today are 81.7% cheaper than they were in the late '90s.
At the height of the dot-com rally, Nasdaq stocks traded at 175 times earnings. Today, that figure stands as 32 – making today's stocks five times cheaper than they were then.
When we take inflation into account, the Nasdaq is well below its previous high, Birinyi says. In 2000, the index would have to hit 6908 to have the same value as back then, for an additional rally of 38%.
In other words, tech stocks are nowhere near overheated.
And that means you still have plenty of ways to profit…
Join the conversation. Click here to jump to comments…
About the Author
Michael A. Robinson is one of the top financial analysts working today. His book "Overdrawn: The Bailout of American Savings" was a prescient look at the anatomy of the nation's S&L crisis, long before the word "bailout" became part of our daily lexicon. He's a Pulitzer Prize-nominated writer and reporter, lauded by the Columbia Journalism Review for his aggressive style. His 30-year track record as a leading tech analyst has garnered him rave reviews, too. Today he is the editor of the monthly tech investing newsletter Nova-X Report as well as Radical Technology Profits, where he covers truly radical technologies – ones that have the power to sweep across the globe and change the very fabric of our lives – and profit opportunities they give rise to. He also explores "what's next" in the tech investing world at Strategic Tech Investor.