The Exxon Mobil stock price (NYSE: XOM) hit a 52-week low of $84.03 intraday Wednesday. Shares of the oil and gas giant are sitting at their lowest level in 17 months.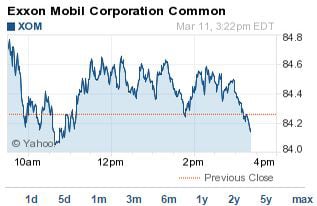 The Irving, Texas-headquartered company has certainly taken it on the chin over the last several months. Indeed, a laundry list of issues plague the stock...
It's Not Just Oil Hurting the Exxon Mobil Stock Price
Here's what's weighed on XOM in 2015:
Plunging oil prices: Brent crude oil is trading around $57 a barrel. A year ago, the global benchmark for oil traded at $102.80. West Texas crude is trading at $47.32, down nearly 60% from prices last summer.
Record crude stockpiles: U.S. crude inventories rose by 4.5 million barrels last week, according to government data released Wednesday. The build took U.S. crude stockpiles to 448.9 million barrels through the week ending March 6. That's the highest level on record dating back some 80 years.
A strong dollar: Amid expectations U.S. interest rates will rise midyear, the dollar rose to a 12-year high against the euro Wednesday. The dollar gained 1.6% to $1.0531 against the single currency. The dollar is also at multiyear highs against a number of developed-market currencies. The Swedish krona is off 22% against the dollar since June 30, 2014, according to FactSet. The Japanese yen is 16% lower. The Swiss franc is 11% lower. Oil is priced in dollars. So, a stronger dollar makes oil more expensive to buyers using other currencies.
Increasing global supply: Russia's Energy Minister Alexander Novak told Reuters Wednesday that exports from Russia will rise this year. Russia, one of the world's biggest oil producers, will maintain its crude oil output at more than 10 million barrels per day (bpd) despite some expectations of a plunge in production due to lower prices.
Legendary investor Warren Buffett: Filings released last month revealed the Chief Executive Officer of Berkshire Hathaway Inc. (NYSE: A) sold his entire stake in XOM. The Oracle of Omaha sold 41 million XOM shares in Q4 2014. It was Berkshire's eighth largest stake. Berkshire had been XOM's sixth largest shareholder.