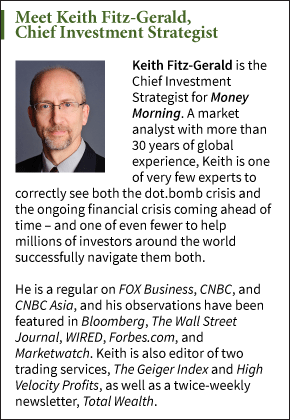 This money-making tip comes from our Chief Investment Strategist, Keith Fitz-Gerald:
Tuesday capped a miserable three-day streak for U.S. markets on fears of an accelerated Fed rate hike. The Dow, S&P 500, and Nasdaq shed 1.09%, 1.79%, and 1.38% respectively.
The "good is bad" meme followed by traders triggers market dips with every piece of good news, thanks to paranoia the Fed will seize on it to raise rates. And it creates buying opportunities for investors with the right tactics.
Three successive Fed chairs have allowed the markets to become addicted to cheap money. There will eventually be hell to pay. Just not tomorrow.
First, let's look at what really happens after interest rates rise. Then I'll share the three best investments to own for a Fed rate hike ...
History's Verdict on Fed Rate Hikes
Wall Street wants you believe a return to "normal rates" via a Fed rate hike of any kind will lead to a massive market correction.
But the most recent examples point to the opposite happening - rate hikes causing rallies in their aftermath.
Back in 1980, inflation soared. Yet the stock market was in the middle of an impressive bull run, showing strength that was widely out of step with almost every other economic indicator (much like today).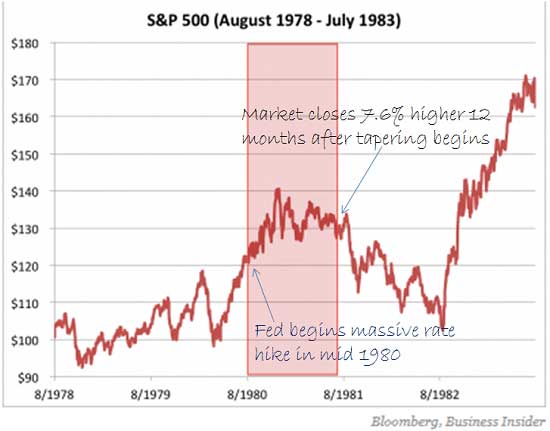 Then, in the spring of 1980, Fed Chairman Paul Volcker began a rate hike that would see rates climb to 19.03%... and stocks rallied through December.
In mid-1983, the Fed decided to increase rates again in pursuit of an even more ambitious 11.44% target over the 8.50% it had already achieved.
The result? The S&P 500 surged immediately. It was still up 6.1% a year later compared to its pre-rate hike levels.
According to Sid Riggs, Money Morning's Director of Research and Performance Measurement, the markets actually went up during six of the last seven periods when the Fed raised rates, gaining an average of 13.47%.
The only time the S&P 500 didn't rise alongside rising rates was back in 1970. That's when the Fed Funds Rate increased from 3.71% to 12.92%. But the Fed hardly has the gall to jack rates by that much today.
For all of the power that stimulus has to artificially juice the markets, traders have forgotten that getting the financial house in order is really the great hope here.
That means panic selling - like what happened Tuesday when the Dow Jones fell 333 points - is an opportunity to buy.
Here's how to play the last gasps of Fed stimulus - and the eventual return to normal rates.