It seems there is always a great deal of attention being paid to Apple Inc. (Nasdaq: AAPL).
Today I'm going to show you how Apple can give us a 50% gain – and that will pale in comparison to my backdoor play, which could net in excess of 100%.
I believe that putting Apple in the Dow Jones Industrial Average will help to stabilize its correlation to the market's benchmarks even more.
You see, Apple is acting more and more like a bellwether stock, raising its dividend on an annual basis all the while buying back shares. Apple's equity often moves its own way, regardless of global or regional circumstances.
For example, in the last 200 trading days, AAPL shares moved with the S&P 500 just 12% of the time. Apple almost looks like a defensive play when you think about it that way, and that's exactly what hedge fund managers see.
But along with the move to the Dow comes perhaps the biggest factor in Apple's expected rise: its product introductions…
This Chart Predicts Apple's 50% Gain
The announcement of lighter and faster MacBooks is nice, but it's the Apple Watch that is grabbing most of the headlines these days. I can tell you that watch is going to be on a lot of peoples' "Buy" list, including mine.
The stock has peeled back from its closing high of $133 in February to its current price of around $124. The chart below shows us a possibility.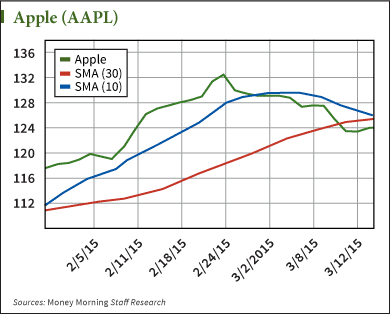 Last week we watched the overall markets seesaw back and forth in triple-digit moves. Apple followed suit until late in the week, though moving lower it did see higher highs as the overall market fell.
This is a true sign of a stock looking to make a move to the upside. The big question: is there a possibility that Apple stock could see $200 this year?
In that case we are looking at a return on investment of about 50% looking at today's price vs. the target.
But there is a way to take that 50% gain and rocket right past it, even while taking a smaller price bite than the $125 a share it's going to cost you to buy AAPL at today's prices.
"Forced Marketing" Powers Huge Returns
How about 80% off, without a margin account? Yes that's right, this is strictly cash, has less out-of-pocket cost and, more importantly, less out-of-pocket risk! Let's first do a quick review, and discuss how we get a contract on AAPL for the rest of the year to buy the stock for $25 a share less than the market price…
Apple has incorporated a marketing pitch into its latest iOS update – something called "forced marketing" and this can push demand for the Apple Watch (which the new iOS touts through a watch-linked app) through the roof.
Anyway, to my mind and analysis this is just one more confirmation that this stock is set to sail to my target of $200 this year.
So the next question remains… how to buy the stock below market price, and make a killing in the end?
Here's My 300% Return Strategy
Join the conversation. Click here to jump to comments…
About the Author
Tom Gentile, options trading specialist for Money Map Press, is widely known as America's No. 1 Pattern Trader thanks to his nearly 30 years of experience spotting lucrative patterns in options trading. Tom has taught over 300,000 traders his option trading secrets in a variety of settings, including seminars and workshops. He's also a bestselling author of eight books and training courses.