This investment risk insight comes from our Chief Investment Strategist, Keith Fitz-Gerald:
There's no such thing as a 100% risk-free investment. If anyone tells you otherwise, take your money elsewhere.
That said, you can make any investment risk "free" under the right conditions by using one of my favorite tactics: the free trade.
This strategy lets you do three things at once: capture profits of at least 100%, pay for your initial investment, and reduce the risk on your remaining position to almost nothing.
Before I tell you how it works, let's look at how Wall Street misleads investors about how risk works...
The Myth of the "Risk-Free" Investment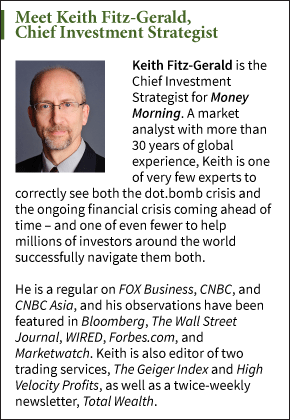 The term "risk-free investment" is still in widespread use today. This is despite the fact that the idea of risking nothing and gaining everything has never ended well.
The reason is that Wall Street only associates risk with loss.
That's why they consider U.S. Treasuries and other government paper as "risk-free" choices, even though they know there are risks inherent in every investment. It's a game of semantics.
It's a game they want you to play, because it forces you to implicitly buy off on the most profitable strategy of all (for them) - diversification.
That's the idea that if you spread your risk around in different asset classes and investments -stocks, bonds, real estate, etc. - you'll be better off because not everything can possibly go down at once.
But it's absolutely wrong.
Ask anybody who got their portfolio halved twice in the last 15 years - first during the dot-bomb meltdown from 2000-2003 and then during the Financial Crisis that started in 2008. Everything went down at once both times.
You have to think about investment risk differently in today's highly computerized and interlinked global markets, especially when it comes to your winners.