China, reinforced by its recent mega gas-purchase deals, has been turning to Russia for some time as an economic partner. Now, it seems, the only other billion-plus population country may be doing the same.
Rather than looking west, India is looking east, and contemplating its future as part of a Eurasian union.
From numerous angles India's future is bright. As you'll see, now's the time to get in on it.
The Focus of International Alliances Is Rapidly Shifting
As we've discussed, Brazil, Russia, India, China, and South Africa (BRICS) have come together to form their own BRICS bank rivaling the IMF and World Bank. I believe this is the beginning of an emerging market game-changer.
The stated goal of the new megabank is to fund infrastructure projects in developing economies. With Putin's recent ratification of the deal, the BRICS New Development Bank is a major step closer to operational.
Grouped together, these countries' economies represent a total population of 3 billion and GDP of $16 trillion. And although membership is open to other UN member countries, the BRICS' share is not to dip under 55%, so they effectively retain control. Here's a quick graphic illustrating the collective size of their combined countries' size and economic activity: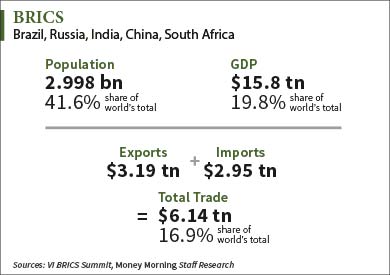 While the bank's headquarters will be Shanghai and the first chairman of the board will be Brazilian, India will serve as first five-year rotating president. And there are further signs that India is angling to link up with even more of its neighbors.
This past January saw another international union come into effect: the free trade zone known as the Eurasian Economic Union. EEU members include Russia, Kazakhstan, and Belarus. Even Armenia, where 27% of total trade is with the EU, and whose in-country delegation has been trying for years to coax the Asian nation into joining its union, has chosen its eastern suitor instead.
Let's be clear, these countries aren't economic paradises, but everything's relative. Given the European Union's own freefalling currency, mega QE program, record debts, and recurring bailouts and crises, the EEU could well have a brighter future.
Alexey Pushkov, head of the International Committee of Russian State Duma, has said that India has proposed joining the EEU. Russian news agency TASS reported that India will begin negotiating a free trade agreement with EEU members within six months.
Who's next? According to some Russian sources, now China has indicated its willingness to join the EEU free trade zone as well.
A Growing Economy Is Outpacing China
India's economy has been strong, too. The IMF just raised its forecast for the country's growth from 5.6% to 7.2% for this fiscal year, and from 6.3% to 7.5% for next year. That's even better than the IMF's expectations for China at 6.8% and 6.3% for the next two years.
As we discussed in Money Morning last June, Prime Minister Narendra Modi is likely to cut red tape and take more steps to boost India's economy even further. If India and China join the EEU, the total population represented by its members will reach 2.8 billion, and GDP will top $13 trillion.
So as part of the BRICS and likely the EEU, India is bringing its own mega market together with even larger ones, from which it's well-positioned to benefit. India has a huge population that is young, dynamic, and growing faster than China's, at 1.2% versus 0.5%. And its expertise in a number of areas like engineering and IT make its outlook particularly attractive.
The Reserve Bank of India surprised markets with its second rate cut this year. The benchmark repo rate was lowered twice by 25 basis points now to 7.5%, as the central bank looks to boost inflation. That should help cheapen the rupee, help exporters, and stimulate investment and consumption.
There appears to be support for rallying Indian equities. The bottoming out of a recent drop in profit forecasts and Prime Minister Modi's lift in infrastructure spending bode well for the country's outlook.
This makes two India-centric ETFs particularly attractive.
The Perfect Alignment to Profit Is in Place
Join the conversation. Click here to jump to comments…
About the Author
Peter Krauth is the Resource Specialist for Money Map Press and has contributed some of the most popular and highly regarded investing articles on Money Morning. Peter is headquartered in resource-rich Canada, but he travels around the world to dig up the very best profit opportunity, whether it's in gold, silver, oil, coal, or even potash.