What has been the most significant Yahoo stock price driver will no longer be a factor for YHOO's share price come 2016.
You see, by the end of the year, Yahoo! Inc. (Nasdaq: YHOO) will separate out its 15% stake in Alibaba Group Holding Ltd. (NYSE: BABA).
This sounds dire for the struggling online company. After all, Yahoo stock has risen as much as 200% since Marissa Mayer stepped in as CEO and the Alibaba stake came more into focus. This meteoric rise more than anything represented investor interest in Yahoo's large position in what could be one of today's most promising growth markets: Chinese e-commerce.
But post-spin-off, Yahoo will not be valueless. We took a closer look at what's behind Yahoo's stock price today and saw there's more to it than just Alibaba.
Here's what will help YHOO shares continue to grow…
A Deeper Look at the Current Yahoo Stock Price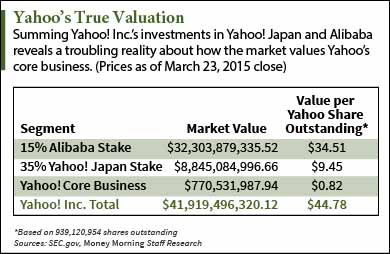 A simple sum-of-the-parts valuation of Yahoo shows how much Alibaba factors in to YHOO's share price. And it shows Yahoo's core business – selling ads against searches and its content – isn't getting much respect from the market.
Yahoo's current market cap is around $41.9 billion. Of that, the Alibaba stake is worth around $32.3 billion. When divided by Yahoo's outstanding shares, $34.51 of the current $44.78 Yahoo stock price is tied up in Alibaba.
This means the market prices Yahoo stock without Alibaba at $10.27. But this still falls short of valuing Yahoo's core business.
That's because Yahoo also holds a 35% stake in Yahoo! Japan.
Those 2 billion shares are worth about $8.9 billion. That includes a currency conversion from yen to the dollar.
Now for the true value of the Yahoo stock price emerges, and it's not pretty…