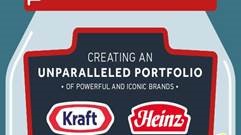 Kraft Foods Group Inc (NASDAQ: KRFT) opened at an all-time high Wednesday on the news of its merger with HJ Heinz Company (NYSE: HNZ). The company will be called The Kraft Heinz Company and is bolstered by a combined $10 Billion investment from Berkshire Hathaway and 3G Capital.
Large mergers are often opportunities for the acquiring company to "buy growth" while absorbing competition and solidifying or expanding market share.
The merger will certainly make Kraft shares more attractive to value investors, as KRFT stock owners will receive a $16.50 cash dividend along with a 49% stake, while HNZ shareholders will get a 51% stake in combined company.
The massive size of the combined companies - the resultant conglomerate will be the fifth largest global food and beverage company in the world - still leaves opportunity for growth. Both companies earn a substantial proportion of their revenues internationally, and the collective portfolio of brands will greatly expand offerings in emerging markets.
3G Capital, the counterpart to Berkshire in the $10 Billion investment, is a Brazilian powerhouse private equity firm and is known in part for its ability to tap global opportunities.
While the combination of two large caps won't spark the large gains seen in some small-cap mergers, the improved economies of scale created by the two will provide expanded large cap value.
The products of the two companies - essentially processed food - should make assimilation into emerging markets a quicker proposition than other sectors attempting the same. Many of its products will be considered household essentials and won't represent large ticket purchases for emerging market consumers. From an investor perspective, the new firm should prove a cornerstone value.