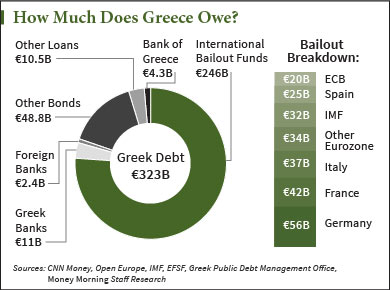 Updated July 20, 2015: The Greek government has received a 7.16 billion euro disbursement ($7.8 billion) from the European Union (EU) as a stop-gap until its full three-year bailout has been settled.
Exactly how much does Greece owe?
The country is 323 billion euros in debt ($352.7 billion) to the International Monetary Fund (IMF), European Central Bank (ECB) and other creditors - more than 175% of its GDP -- for an aid package it received during the 2008-2009 global financial crisis.
Nearly half (3.5 billion euros) of Greece's fresh stop-gap loan immediately went to an ECB payment that was due Monday. On top of that, a 2.05 billion euro payment, plus 1.6 billion euros of interest, went to the IMF.
That means Greece is left with about $10 million.
And with that, Greek banks reopened Monday for the first time in three weeks. Citizens are able to withdraw up to 420 euros a day -- far more than the 60-euro limit that'd been in place. Additionally, Greeks may now access their safe-deposit boxes.
These four charts help to put the amount of Greek debt into perspective...
How Much Does Greece Owe?
What Greece Owes, Chart No. 1: Debt to GDP Ratio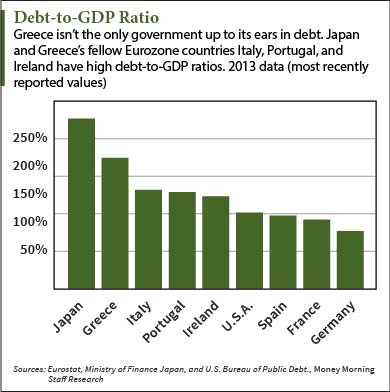 Debt-to-GDP ratio measures a country's debt compared to its economic output. In other words, what a country is borrowing divided by what it's bringing in. The higher the ratio, the harder it will be for a country to repay its debts.
A look at debt-to-GDP ratios in other Eurozone countries reveals Greece isn't the only villain of the seven-year-long-and-counting Eurozone crisis.
Greece has a 174.9% debt-to-GDP ratio. Its Eurozone brethren Italy, Portugal, and Ireland come in high as well, at 132.1%, 129%, and 123.3% respectively.
In fact, because of the debt racked up in many Eurozone countries including Greece, the European Central Bank (ECB) implemented quantitative easing (QE) this month.
What Greece Owes, Chart No. 2: Greek Foreign Debt vs. U.S. Foreign Debt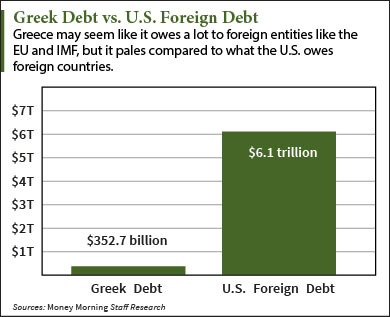 Greece owes a lot to foreign countries - but not nearly as much as does the U.S.
As of March 6, 2015, U.S. public debt reached $13.08 trillion (74% of fourth-quarter 2014 GDP).
Of that sum, $6.1 trillion (47%) is owned by foreign investors.
China owns the biggest chunk of U.S. foreign debt at $1.3 trillion, followed by Japan at $1.2 trillion. These top two creditors constitute 59% of U.S. foreign debt.
Comparatively, Greece owes $352.7 billion to foreign investors. It owes its top two foreign creditors - the European Union (EU) and the International Monetary Fund (IMF) - roughly $264.5 million (75% of its total debt).