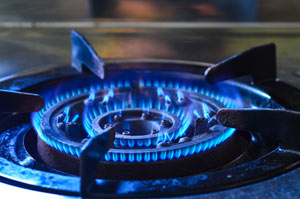 Natural gas is often defined by its utilities. It generates electricity, heats homes, and fuels vehicles.
Most investors are aware how natural gas is used. But not everyone understands how natural gas is traded.
Today we're going to break down what natural gas futures are and how they work in the commodities market. Knowing how it's traded every day lets you understand how it's priced and how to interpret movements in natural gas futures.
What Are Natural Gas Futures?
A natural gas future - like all commodities - is a contract obligating the buyer to purchase a specific quantity of natural gas at a future date and price. Delivery dates are set around the 15th day of the following month. Futures are priced per million British thermal units (BTUs) - one BTU is the amount of energy needed to change one pound of water by one degree Fahrenheit.
According to Investopedia, a natural gas futures contract has 10 specifications:
Ticker Symbol: NG on the New York Mercantile Exchange (NYMEX), ENG on the electronic Chicago Board of Trade (eCBOT)
Contract Size: 10,000 million BTUs
Deliverable Grades: Determined by pipeline specifications in effect at the time of delivery
Contract Months: All months of the year
Trading Hours: 9 a.m. to 2:30 p.m. EST on the NYMEX, 6 p.m. to 5:15 p.m. CST on the eCBOT
Last Trading Day: Trading ends three business days before the first calendar day of the delivery month
Last Delivery Day: Last business day of the contract month
Price Quote: Measured in cents per million BTUs
Tick Size: A "tick" is the minimum upward or downward movement a stock or future can move. For natural gas futures, it is $0.01 per million BTUs.
Daily Price Limit (not applicable in electronic markets): $3 per million BTUs; contracts may expand by $3 in either direction if they are traded, bid, or offered. If any contract is traded, bid, or offered at the $3 limit for five minutes, trading is halted for five minutes.
How Are Natural Gas Futures Traded?
A futures contract for natural gas can be traded on the NYMEX, Intercontinental Exchange (ICE), or Multi Commodity Exchange (MCX). The NYMEX is the commodity benchmark in the United States while the ICE and MCX are based out of the U.K. and India, respectively.
Like all other commodities, natural gas has its own ticker and contract value. These components help you figure out the best opportunities to trade and sell it.
If you're buying or selling a natural gas futures contract, you'll see a ticker handle like this: NGK15 @ 2.76.
"NG" denotes the commodity being traded is natural gas. "K" represents May - the month in which the natural gas must be delivered - and "15" represents the year. The "2.76" denotes the price per million BTUs being bought or sold at that time.
So the whole string put together represents the following:  "I am buying/selling natural gas for May 2015 delivery at a price of $2.76 per one million British thermal units."
Now we have to calculate the contract value, which determines how much your amount of natural gas is worth in the overall market...
The value of a futures contract can be calculated by multiplying the market's current price by the contract's size. Because a futures contract's size is 10,000 million (10 billion) BTUs, you simply multiply the current price by 10,000.
If we stick to the above ticker's price of $2.76, we've determined that the contract's value in the natural gas market is $27,600.
How Have Natural Gas Futures Performed in 2015?
While the energy sector has struggled this year, natural gas has been much less volatile.
Gas futures have fallen about 5.4% in 2015. Meanwhile, WTI oil and Brent oil have dropped 12.8% and 7.3%, respectively (as of March 24).
Oil futures are more volatile because they're tied to the world's No.1 energy commodity. They're exposed to complex geopolitical factors that can depress prices at any given moment.
One example is OPEC's November 2014 decision to maintain production. The news sent oil prices crashing below $70 per barrel that day - a level not seen in over four years.
Natural gas prices, on the other hand, are much more stable. Trading is more localized since natural gas is harder to transport overseas.
Natural gas futures generally perform well during the harsh winter months. Prices rose above $3 in January and February when subzero temperatures blanketed most of the Eastern United States.