Gold is on a tear. It's rallied six straight days and headed for a seventh today. Yesterday (March 25), it closed at a three-week high of $1,197 an ounce.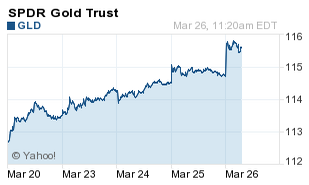 Shares of the SPDR Gold Shares (NYSE: GLD) ETF have also posted gains lately on gold's rise. GLD ETF is up 3% in the past five days, while the Dow has slipped 0.7%.
But can this gold and GLD ETF rally keep going, so investors can profit?
Here's what GLD ETF holders can expect…
GLD ETF to Climb Higher
GLD ETF is the world's largest gold fund. Right now GLD ETF holds 23.9 million ounces of gold, worth $28.6 billion.
Investor interest in GLD ETF is positive for the year, with the fund's reserves up 40.75 metric tons year to date, according to Kitco.
Many investors prefer to ride gold's run with GLD ETF instead of holding physical gold. That's because the ETFs work like stocks. They're liquid. They're easy to buy and sell. They have no storage fees or security problems.
GLD ETF is designed to track the price of gold. With gold prices up, thanks to the usual suspects, GLD ETF will keep rising. Here are just two catalysts that will push gold investments higher.
GLD ETF Catalyst No. 1: The U.S. Dollar
The greenback, which had been enjoying a long rally, is taking a breather. The dollar slumped 3% against the euro last week. That was its biggest loss since October 2011. The Wall Street Journal Dollar Index, a measure of the dollar against a basket of currencies, ended the week down 2.2%. That was its biggest weekly percentage decline in nearly four years.
Pressuring the dollar is a change in the expected timing of a U.S. interest rate increase. The bulk of Wall Street experts currently expect the central bank to hold off on a hike until at least September, according to Reuters. Previous expectations were for June.
That sentiment change helped gold add $32.50, or 2.79%, to end at $1,184.80 last week. GLD ETF closed up 2.7% around $113.
Gold and GLD ETF will enjoy more gains as dollar index bulls step back. Data shows bullish dollar bets have decreased…