The price of gold - and silver - rallied Thursday as investors piled into "risk off" trades.
The price of gold jumped $7.80, or 0.7%, to close at $1,204.80. That marked a four-week high for the yellow metal. It also stretched the gold price rally to a seventh session - the longest streak since 2012.
The price of silver, meanwhile, was up $0.14, or 0.8%, to $17.14. Intraday, the white metal traded as high as $17.50. The last time the silver price saw the $17 handle was Feb. 16, when silver ended at the day at $17.27.
Gold (green) & Silver (blue) vs. the Dow (red), 3/26/15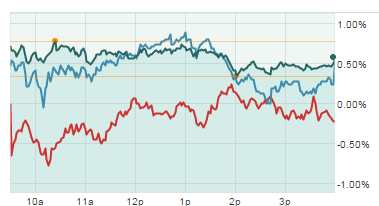 A number of factors stoked Thursday's precious metals rally. Here's a look some catalysts driving gold and silver prices now.
Why the Price of Gold and Silver Rose
Four big drivers have pushed up these prices:
Gold and Silver Prices Up on Safe Haven Buying: Saudi and allied warplanes swiftly and suddenly attacked rebels in Yemen on Thursday. Saudi Arabia threatened ground troops and placed itself into its southern neighbor's civil war. The unexpected move opened up the potential for a broader sectarian conflict in the region.
Gold and Silver Prices Up on Slipping U.S. Dollar Index: Dollar index bulls have taken a step back after the greenback's recent robust rally. The dollar index, which measures the dollar against a basket of six major currencies, shed 0.52% to $96.52 in morning trading. A softer greenback has been an upbeat influence for the precious metals markets over the last few days.
Gold and Silver Prices Up on Lackluster Economic Data: Soft economic data this week has buoyed gold and silver. Wednesday's uninspiring durable goods report, showing a 1.4% decline month over month, was the latest in a string of weaker than expected economic reports. The read bolstered expectations the U.S. Federal Reserve will hold off on an interest rate hike until later this year. That's bullish for gold and silver prices.