The current price of silver is on the upswing. At $17.145 an ounce - the current price of silver as of 8:45 a.m. EDT - the white metal is up 9.3% on the year and 3.5% on the month.
But silver has been more volatile than ever. This price rise comes a little more than two weeks after silver prices were dangerously flirting with the four-year low established back on Nov. 5, 2014. That's when it closed at $15.315. On March 11, it closed at $15.465.
And since then, it's up 10.9%.
What does this volatility and today's rise mean for what's ahead? Here's what to make of the current price of silver...
A Closer Look at the Current Price of Silver and What's Ahead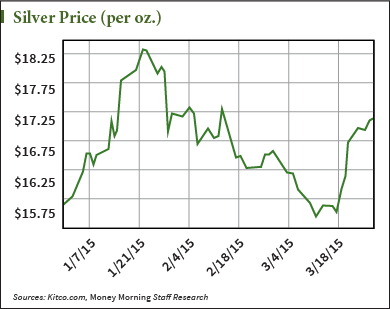 It's exciting to see the white metal making gains after a tough 2014. The markets have been frustratingly stubborn to realize the true value of silver. But it's important to understand just how violent price swings have been this year.
The accompanying silver price chart shows this.
By Jan. 22, silver prices climbed to $18.31 an ounce. It was up 16.7% on the year and was hitting levels not seen since Sept. 2014.
But even after the silver price clawed its way up, it was devastated by a stronger dollar and expectations of interest rate hikes. Those deflationary pressures make precious metals' reputation as an inflation hedge less attractive.
From that peak, silver has fallen as much as 15.5% before recovering slightly to silver's current price.
This current silver price surge is a welcome change from the continual doldrums. But it's also important to remember that silver prices are going to continue to be volatile and at times frustrating.
Investors may be asking, "Is silver a good investment?"