The recent addition of Apple Inc. (Nasdaq: AAPL) to the roster of Dow Jones Industrial Average companies begs the question of which changes to the DJIA we're likely to see next.
Apple replaced long-time Dow Jones component AT&T, Inc. (NYSE: T) on March 19. Such changes to the DJIA companies reflect shifts in the U.S. economy.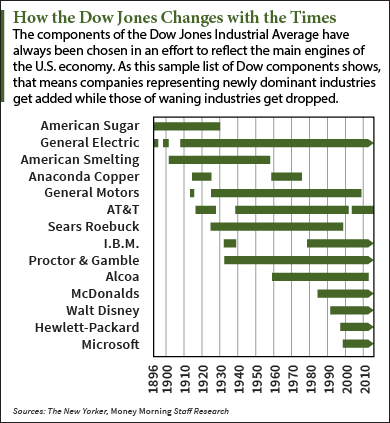 That's because one of the goals of the "Averages Committee" – the folks who determine the make-up of the 30-stock index – is to pick companies that represent top U.S. industries.
The task is ongoing, of course. As the U.S. economy has evolved, so has the list of Dow Jones Industrial Average companies.
Apple, as one of the most successful consumer tech companies in the world, had earned a spot in the DJIA. AT&T, once synonymous with telecommunications, doesn't have the clout it once did.
The shift comes less than two years after three new stocks became DJIA companies. Goldman Sachs (NYSE: GS), Visa Inc. (NYSE: V), and Nike Inc. (NYSE: NKE) replaced Alcoa Inc. (NYSE: AA), Bank of America Corp. (NYSE: BAC), and Hewlett-Packard Co. (NYSE: HPQ) in September of 2013.
It's clear the Averages Committee has a preference for dynamic, growing companies as much as it loses interest in those that lose even some of their luster.
Right now, several big and growing U.S. companies are prime candidates to join the DJIA when the committee makes its next move. And looking at the current list of Dow Jones Industrial Average companies, it's not hard to find those most likely to get the boot.
So how do you determine a DJIA candidate?
The Criteria for Dow Jones Industrial Average Companies
While Dow selection is subjective, the Averages Committee does use some general criteria to ensure only top blue-chip sticks make it in.
Eligible DJIA stocks must be part of the Standard & Poor's 500, with the exception of transportation and utilities stocks (as they each have their own Dow averages). Dow Jones stocks must also be incorporated and headquartered in the United States, with most of its revenue coming from the U.S.
In addition to contributing to a mix representative of the U.S. economy, the S&P Dow Jones Indices methodology lays out these guidelines: "A stock typically is added only if the company has an excellent reputation, demonstrates sustained growth, and is of interest to a large number of investors."
Another quirk of the Dow Jones is that changes are made as needed. So you can have changes come less than two years apart, as we've just seen. Or the index can stand pat for many years, as occurred between 1959 and 1976.
But with shifts in the U.S. economy coming ever more rapidly, changes to the DJIA are more likely sooner rather than later.
Three stocks in particular have the best shot to be next to join the Dow Jones…
Three Top Prospects to Become DJIA Companies
These three companies best illustrate where today's U.S. economy is going: