The MSCI Emerging Markets Index countries are off to a hot start this year.
But for investors looking to get a piece of the MSCI Emerging Markets Index, the better option is not the obvious one.
The MSCI Emerging Markets Index is a market benchmark, not an investment vehicle. To play its performance, investors go with the iShares MSCI Emerging Markets Index ETF (NYSE Arca: EEM), a tracking ETF. Though this year it's not doing a good job of tracking the index...
The MSCI Emerging Markets Index is up 12.9% this year. The ETF is up only 2.3% on the year.
Investors can get a piece of the growth coming out of MSCI Emerging Markets Index countries right now, but the best way isn't with EEM. It's more profitable to go with individual investments that have the best growth potential. This has a better chance to deliver explosive gains than buying an ETF with broad exposure.
And right now, emerging markets should be on every investor's radar...
Why Invest in Emerging Markets?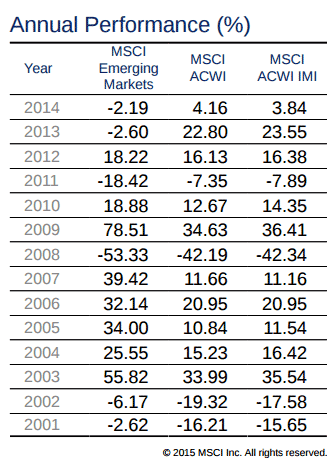 Emerging markets are a tough sell for the risk averse.
Over the course of the year they can skyrocket, as the accompanying chart shows. But, one year it's up big, while the next it's devastated.
Even so, investors can't enjoy these extraordinary gains without some skin in the emerging markets game.
"At least limited exposure to emerging markets makes sense because they can offer explosive returns," Money Morning Global Resource Specialist Peter Krauth said. "That can apply to everyone, so long as the allocation is kept smaller for the more risk averse."
"But," Krauth added, "I think investors need to be selective."
Here's the best way to invest in the MSCI Emerging Markets Index countries to get a piece of the world's best growth opportunities...
The Best Investments Among MSCI Emerging Markets Index Countries
Emerging markets, while replete with profit opportunities, are not without the obvious concerns.
In the past year, Russia has been struggling with falling oil prices and a weakening ruble. This goes without mentioning the West's sanctions brought on by Russia's military adventurism is Ukraine. India is perpetually in a nuclear standoff with Pakistan. And investors fear China is losing its step.
But that doesn't diminish the profit potential of these MSCI Emerging Markets Index countries...