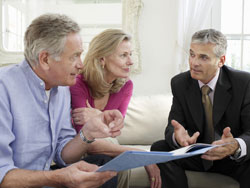 Having the right financial advisor in your corner can mean the difference between huge profits and devastating losses.
But how do you pick the right one?
A quick Internet search reveals dozens of articles devoted to the topic of which questions to ask a financial advisor.
And they're all pretty much the same. They touch on the basics, such as credentials and certification, fiduciary status, and investment philosophy.
Those are important topics to cover, but they won't help you determine whether an advisor is truly aligned with your interests.
Money Morning Chief Investment Strategist Keith Fitz-Gerald, a seasoned market analyst with more than 30 years of global experience, shared five questions to pose to prospective (or current) financial advisors that go beyond the obvious…
Five Critical Questions to Ask a Financial Advisor
No. 1. Do My Investments Match My Risk Tolerance and Expectations?  
Many investors only think in terms of returns rather than risks. But that's backwards, especially in today's rocky investing climate.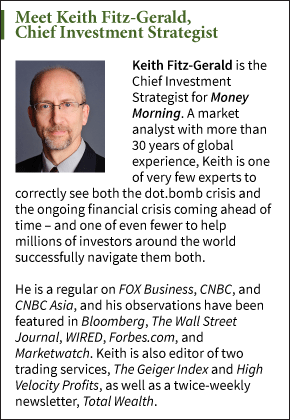 It's important to find an advisor who can help you navigate the market volatility that's the norm for now and the foreseeable future.
The best advisors will help you pick investments that will help you meet your individual goals in your time frame, regardless of whether it's an up or down market.
"No financial advisor worth his or her salt would let a client liquidate into a bear market," says Fitz-Gerald. "And the good ones ensure that their clients have enough cash and ultra-safe investments on hand so they don't have to."
No. 2. How Do My Total Returns Stack Up?
Many investors fixate on finding the next "hot stock" that will deliver 25%, 50%, 100% returns.
But successful investing is a matter of continuous performance, not instantaneous performance.
This means greater returns are possible over time by managing total returns, rather than focusing on percentage returns of specific stocks.
"This is one reason I emphasize income, and in particular, the right dividend stocks," says Fitz-Gerald. "Dividends and reinvestment can account for 85% to 90% of total stock market returns over time."
In fact, dividends can be so steady and continue growing over time so that you actually make more in dividends than you paid for the stocks that produce them.
Many investors may feel that they don't have the luxury of time to focus on long-term results.
"Young or old, you want to learn to work with time, instead of trying to cheat it at every opportunity," says Fitz-Gerald. "The right advisor can help you do that effectively."
These next questions to ask a financial advisor are of utmost importance – and yet many advisors can't answer them at all…