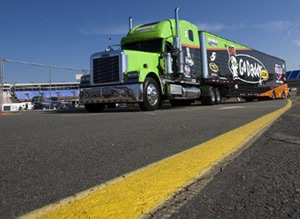 The GoDaddy IPO date is Wednesday, April 1. That's when "GDDY" stock will begin trading on the New York Stock Exchange.
This is the second time that GoDaddy has attempted an IPO. In 2006 the web company planned to go public but ended up withdrawing its deal, citing poor market conditions.
And because the GoDaddy IPO will be the most talked-about IPO of 2015 so far, we've answered the biggest questions that investors are asking now.
Here's everything you want to know about GDDY stock's debut...
GoDaddy IPO Date Is Here! This Is What We Know
What is the GoDaddy IPO price?
GoDaddy Inc. (NYSE: GDDY) set a price range of $17 to $19 for its IPO, and will announce a final share price the evening before shares begin trading.
How much money will the GoDaddy IPO raise?
The company plans to sell 22 million shares through the deal. At the high point of its price range, the IPO will raise approximately $418 million.
How much is GoDaddy worth?
GoDaddy will be valued at roughly $2.87 billion following the IPO.
GoDaddy initially filed for its IPO in June and set a placeholder value of $100 million on the deal. The consensus at the time was that GoDaddy would be valued closer to $4.5 billion.
What does GoDaddy do?
The company is a web-domain service with more than 12.7 million customers. It also manages more than 57 million domain names. That domain business has been the company's hallmark since it was founded in 1997.
But it's best known for its marketing campaigns. High-profile spots during the Super Bowl and other major sporting events typically feature scantily clad models. The company has also sponsored NASCAR driver Danica Patrick.
Money Morning Members, continue reading for the answers to four more frequently asked questions...