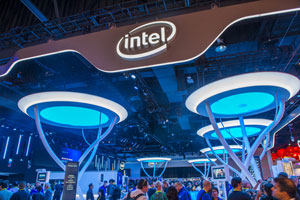 Intel Corp. (Nasdaq: INTC) has pioneered the semiconductor industry for more than 46 years - but it's also pioneered tech into becoming a dividend-friendly sector. The INTC dividend has been rewarding investors for 23 years, paving the way for many other tech titans.
The tech sector used to be devoid of dividend stocks. CNBC reported that there were only 22 dividend-paying IT stocks on the S&P 500 in December 2003. By last July, that number more than doubled to 45.
But the sector can be tricky for dividend investors since it's packed with high-growth operations that invest in growth instead of returning cash to shareholders. Older companies with a history of dividend increases, like Intel, are the best picks in a sector that never stops expanding.
Here's how the INTC dividend has stacked up over the years...
The INTC Dividend Leads the Tech Sector
Intel has delivered a constant stream of quarterly payouts since starting its dividend policy in 1992. Its 29% compound annual growth rate has made it one of the most mature dividend tech plays on the market.
But that's not to say the semiconductor king didn't have periods of stagnation. Intel's dividend remained unchanged at $0.02 per share for 14 straight quarters between 2000 and mid-2003. The company saw it as a measure to save cash after the dot-com bubble burst.
Intel bounced back in 2004 by doubling its quarterly payouts to $0.04 a share. Over the last decade, Intel's quarterly dividend has tripled from $0.08 to $0.24. The most recent hike was declared on Feb. 4.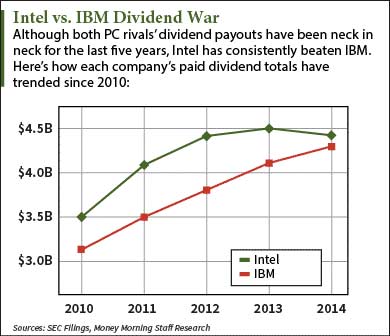 The company isn't expected to cut back on its boosts anytime soon. Jefferies analyst Mark Lipacis said in September that Intel is the semiconductor industry's "next dividend growth story" and predicted its dividend could soar as much as 45% by 2016.
The best part of the INTC dividend is that its payout ratio is only 45%. That's lower than five of the top 10 dividend-paying companies on the S&P 500, including Verizon Communications Inc. (NYSE: VZ) at 89.3% and Johnson & Johnson (NYSE: JNJ) at 48.4%.
Intel has increased its dividend every year for the last 11 years. At that rate, it's well on its way to joining the "Dividend Aristocrats" - companies on the S&P 500 who have increased their dividends for at least 25 consecutive years. Intel already meets the club's other qualifications, including a minimum market cap of $3 billion and an average trading volume of at least $5 million.
Intel's dividend has surpassed many tech giants by a considerable margin over the last few years - most notably International Business Machines Corp. (NYSE: IBM).
IBM is the only software company to come close to Intel's payouts. IBM has seen a 22.9% increase in total annual paid dividends between 2011 and 2014. That greatly overshadows Intel's 7.3% increase over the same period.
However, Intel has dished out more cash every year. The largest disparities were in 2011 and 2012, when Intel paid $600 million more than IBM.
Now for the big question...
With a Juicy Dividend, Is Intel Stock a Buy?