Natural Gas Futures News: Natural gas prices moved higher today (Tuesday) despite bearish speculation regarding the end of winter weather - and we found the perfect way to profit as prices keep climbing in 2015.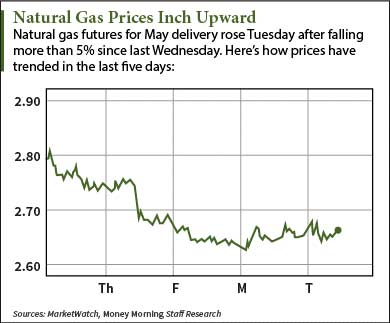 By 11:15 this morning, natural gas futures were up 0.79% at $2.67 per million British thermal units (BTUs). In the last week, prices have fallen about 5.4% despite a slight gain of 1.3% on Monday. Futures fell to a seven-week low of $2.61 last Friday.
Prices continue to hover around their lowest this year as traders expect the onset of spring to lower heating demand. The U.S. is entering "shoulder season" - the period between winter heating and summer cooling seasons when natural gas demand in the fueling sector hits a trough.
"Going into shoulder season, there's not a lot of fundamental support for gas prices, and so they're starting to slide," explained BNP Paribas strategist Teri Viswanath to FX Empire.
The Energy Information Administration (EIA) reported natural gas stockpiles of 1.479 trillion cubic feet for the week ending March 20. That's a 0.8%, or 12 billion cubic feet, increase from the previous week and 44.9% increase from a year ago.
But Money Morning Global Energy Strategist Dr. Kent Moors says we're about to see huge changes in the sector. There are three "super shifts" happening that will drive natural gas futures - and one natural gas ETF - much higher in 2015...
Natural Gas Futures News Point to This Profit Opportunity
The first "super shift" taking place is the transition from coal usage to natural gas usage.
Power companies are switching to natural gas because it releases fewer carbon emissions than coal. These emissions pose environmental hazards such as climate change and excessive haze.
About one-third of U.S. coal-generating capacity from 2012 will be retired by 2020. Most of that will be replaced with natural gas, cutting down excess supply across the country.
"To put this in perspective, this transition alone - ignoring any of the impact on coal from the intensifying Environmental Protection Agency standard increases - will eliminate almost twice the current natural gas storage surplus nationwide," Moors explained.
The second change is an increased usage of natural gas instead of oil in the production of petrochemicals. Petrochemicals are used to make plastics, rubbers, detergents, and many other common products.
The final catalyst for natural gas prices will be U.S. liquefied natural gas (LNG) exports. The U.S. is on track to begin exporting LNG by the end of the year to meet soaring natural gas demand worldwide.
"American exports should account for 6% to 8% of a rapidly expanding global LNG market by 2020," Moors notes. "That's starting from where we are today, which is ground zero."
These reasons are why we'll see more natural gas futures news supporting higher prices. Moreover, we've found a natural gas ETF poised to gain from all of these shifts. The ETF closely follows the commodity's price - offering the perfect opportunity to profit from its climb this year...
Follow me on Twitter: @AlexMcGuire92
More Money-Making Tips:
Related Articles: