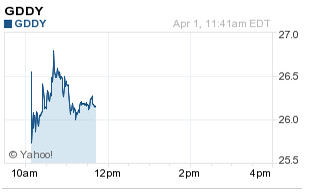 GoDaddy Inc. (NYSE: GDDY) stock debuted on the New York Stock Exchange today (Wednesday) at $26.15 a share and quickly climbed to $26.84 before 11:00 a.m. That's 34% higher than the $20 offer price.
It has been the most talked about IPO of 2015 so far, and now our readers are asking us "Should I buy GoDaddy stock?"
Investor demand for GoDaddy stock has been high in its first day of trading. More than 151 million shares exchanged hands before noon.
Here's a closer look at the GoDaddy IPO...
A GoDaddy IPO Overview
On Tuesday evening, GoDaddy priced its shares at $20 each. That was above the projected range of $17 to $19 per share and indicated strong demand from institutional investors.
The company sold 23 million shares, which was 1 million more than initially planned. That brought the GoDaddy IPO total to $460 million. GoDaddy is now valued at roughly $4.5 billion.
GoDaddy is a web domain service with more than 12.7 million customers. It also manages more than 57 million domain names. That domain business has been the company's hallmark since it was founded in 1997.
The company is best known for its marketing campaigns, however. High-profile spots during the Super Bowl and other major sporting events typically feature scantily clad models. The company has also sponsored NASCAR driver Danica Patrick.
But according to The Wall Street Journal, GoDaddy is working hard to create a new image. The company now wants to be known first for making small businesses more productive, rather than its commercials featuring models.
GoDaddy is now pushing new services on its clients including company-specific email address, e-commerce services, and new bookkeeping software.
The company's transition has its financials trending in the right direction. In 2014, GoDaddy's revenue climbed 22.7% to $1.4 billion.
But that figure alone is not a buy signal.
In fact, there are three huge red flags that have us avoiding GDDY stock after the IPO...