Stock market predictions are typically bullish in April. According to The Stock Trader's Almanac, the S&P 500 has climbed every single April since 2006 by an average of 3.1%. Since 1950, it has been the best performing month for the Dow Jones.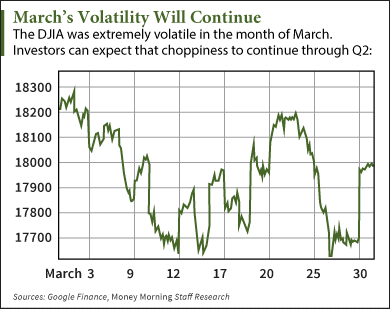 This monthly spike is usually attributed to strong Q1 earnings reports hitting Wall Street. Numerous companies will also raise their guidance figures for the full year in April.
This year, things aren't as bullish in the short term. Our stock market predictions today call for continued volatility into Q2.
Here's what to watch in the stock market in April, as well as an update on the long-term outlook for 2015...
Stock Market Predictions: Short-Term Volatility Ahead
The markets were extremely choppy in March.
Through the month's first 11 days, the Dow Jones Industrial Average dropped 3.6%. From there, it gained 2.6% through March 23. Another dip of 2.3% followed through March 27. On Monday, March 30, the DJIA climbed 1.5% in one day alone. The stock market ended March down 1.9% on the month and down 0.24% for Q1.
That volatility will continue in April. And one of the biggest reasons why is the Federal Reserve.
On Friday, March 27, Fed Chair Janet Yellen announced the central bank will raise interest rates for the first time in more than six years. There was no official date set for the rate hike, and Yellen did mention the increase will happen slowly.
Money Morning's Small-Cap Investing Specialist Sid Riggs says when the Fed does begin raising rates "an inevitable short-term rate riot" will occur. Again, investors can expect more volatility in the short-term.
Even before the rate hike was announced, every FOMC meeting was sending the market into a frenzy.
"Traders are trying to digest [Yellen's comments], and you've seen that volatility just explode to the upside, to the downside, now it's going to go side-side for a little while as they really try to figure out all the nuances," Money Morning's Chief Investment Strategist Keith Fitz-Gerald said on March 20.
Another reason today's stock market predictions see a choppy April is corporate earnings. Low oil prices and a strong U.S. dollar are expected to weigh on Q1 earnings. The Commerce Department estimated last week that after-tax corporate profits dipped 1.6% in Q4 2014.
However, earnings should only lead to a temporary dip in the markets.
"The good news is [earnings] probably don't get a lot worse than they are right now and the comparisons may actually get better," Wells Fargo Fund Management's John Manley said on CNBC. "I think that's important to remember because I think the market tends to look forward in these things."
And while the markets will remain volatile through April, our experts' stock market predictions see the bull run continuing through the rest of the year...continue reading to hear why...