The GoDaddy IPO date is today, April 1, 2015 and GoDaddy stock has begun trading on the New York Stock Exchange.
This is the second time that GoDaddy has attempted an IPO. In 2006 the web company planned to go public but ended up withdrawing its deal, citing poor market conditions.
And because the GoDaddy IPO will be the most talked-about IPO of 2015 so far, we've answered the biggest questions that investors are asking now.
Here's everything you want to know about GDDY stock's debut…
GoDaddy IPO Date Is Here! This Is What We Know
What is the GoDaddy IPO price?
GoDaddy Inc. (NYSE: GDDY) set a price range of $17 to $19 for its IPO, and will announce a final share price the evening before shares begin trading.
How much money will the GoDaddy IPO raise?
The company plans to sell 22 million shares through the deal. At the high point of its price range, the IPO will raise approximately $418 million.
How much is GoDaddy worth?
GoDaddy will be valued at roughly $2.87 billion following the IPO.
GoDaddy initially filed for its IPO in June and set a placeholder value of $100 million on the deal. The consensus at the time was that GoDaddy would be valued closer to $4.5 billion. They're not alone. Here are the other IPOs that came with a large price tag:
What does GoDaddy do?
The company is a web-domain service with more than 12.7 million customers. It also manages more than 57 million domain names. That domain business has been the company's hallmark since it was founded in 1997.
But it's best known for its marketing campaigns. High-profile spots during the Super Bowl and other major sporting events typically feature scantily clad models. The company has also sponsored NASCAR driver Danica Patrick.
Find out the answers to more frequently asked questions, including how much GoDaddy makes and who the underwriters are. 
GoDaddy IPO: A Stock to Avoid
The first major red flag is GoDaddy's profitability.
GDDY lost $143.3 million in 2014. Yes, that's an improvement from the $199.9 million it lost in 2013 and the $279.3 million in 2012. But this isn't a new company either. It has been on the market for 18 years and is still not making a profit.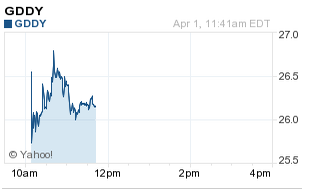 In fact, the company hasn't turned a profit since 2009. And it carries $1.4 billion in debt, most of which comes from its leveraged buyout by several private-equity firms including KKR & Co. (NYSE: KKR) in 2011.
The second reason to avoid GDDY stock is its increasing competition…
Just weeks after the GoDaddy IPO was filed, Google Inc. (Nasdaq: GOOG, GOOGL) announced it would enter the web domain business with "Google Domains." The service allows businesses to search, find, purchase, and transfer domain names.
GoDaddy also competes with smaller companies like Endurance, United Internet, and Network Solutions. But Google is the biggest fear for GoDaddy moving forward.
GoDaddy even admitted how worrisome the competition is in its IPO prospectus.
"Some of our current and potential competitors have greater resources, more brand recognition and consumer awareness, more diversified product offerings, greater international scope and larger customer bases than we do," the company wrote.
Click here to find out the third red flag in the stock's quick rise in early trading.
The Bottom Line: GDDY stock soared out the of the gate 34% higher than its IPO price so far on its first day of trading, and now investors are asking "should I buy GoDaddy stock?" We advise against buying GDDY shares now. The company does not make a profit, has increased competition, and is trading at a premium now.
Will GoDaddy be one of the most talked about IPOs in 2015?
Possibly but here's why we think GDDY will be one of the most talked about IPOs to avoid in 2015.
Related Content:
This past year was the biggest the IPO market has seen since the dot-com era of 2000. And the market shows no signs of slowing down. We've pinpointed the five biggest 2015 IPOs to watch. Take a look…