As the Saudi-led oil war rolls on, all eyes are on U.S. production.
Yet instead of retreating, the flow of American crude into the oil market continues to set new records.
However, given the rapid decline curves experienced in unconventional oil wells, it won't be long now before the shale-inspired oil glut finally begins to shrink.
In fact, that's one of the issues I'll soon be tackling in my keynote address to a conference of Gulf of Mexico drilling support companies in Houston.
This supply "problem" has become a major concern for companies in the region, as the current situation could mean even further cuts in offshore production.
As a result, the group has asked for my latest read on oil.
As is my normal approach, I'd like to give you my market analysis of the situation first.
U.S. Production Climbs as the Rig Count Falls
One of the things to remember is that we have a very paradoxical situation in the oil market right now. For the first time in my 40-plus years in the business, the supply side of the equation is no longer a worry.
In fact, despite a record number of rig withdrawals from the oil patch – marking an almost 50% decline in the past five months – we still ended up with the chart below: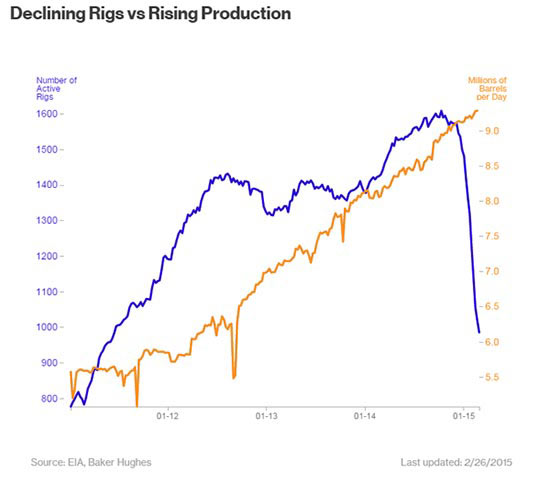 This is one of the slides from my presentation. So are the next two. Together they provide a stark indication of what's been going on in the market.
As you can see, the results are a bit counter-intuitive: U.S. production is still climbing even though the rig count is dropping like a rock.
Add the following chart to the mix and the disconnect is even more pronounced. It's a chart of cap-ex spending, and it's projected to fall by 25% this year.
So despite huge cuts in forward capital expenditures and falling rig counts, the market continues to increase production with the forward projections, showing that those increases are likely to continue into May: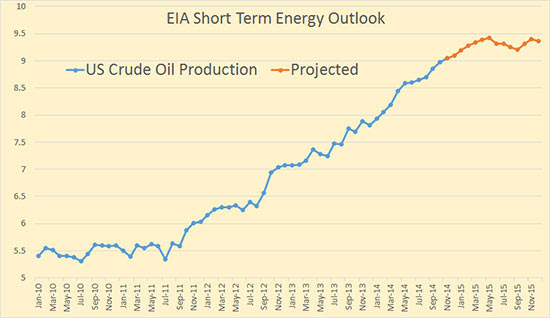 So how is it possible that production continues to increase despite rig layoffs and expenditure reductions?
Join the conversation. Click here to jump to comments…
About the Author
Dr. Kent Moors is an internationally recognized expert in oil and natural gas policy, risk assessment, and emerging market economic development. He serves as an advisor to many U.S. governors and foreign governments. Kent details his latest global travels in his free Oil & Energy Investor e-letter. He makes specific investment recommendations in his newsletter, the Energy Advantage. For more active investors, he issues shorter-term trades in his Energy Inner Circle.