The past nine months have delivered one of the worst slumps in crude oil price history.
Crude oil prices just closed their third consecutive quarter of declines. They've fallen about 47% in the last year and WTI currently hovers around $48 a barrel. The oil sector hasn't been this beaten down since the financial crisis of 2008.
The good news is oil prices have already bottomed out. They'll make a comeback in 2015 – but they won't return to the highs they saw a year ago.
"Oil prices will be going up, but hardly to the levels needed by the countries most dependent on oil revenues," noted Money Morning Global Energy Strategist Dr. Kent Moors. "In short, we're not headed back to triple-digit oil prices anytime soon."
While oil prices move higher, a new energy balance is developing at a rapid pace. Other sources like natural gas, renewables, and nuclear will garner larger shares of the energy market. Oil will remain crucial – but it will no longer rule the market like it did in past decades.
These three charts illustrate where the crude oil market has been – and where it's headed from here…
Crude Oil Price History Chart No. 1: Oil Prices vs. Natural Gas Prices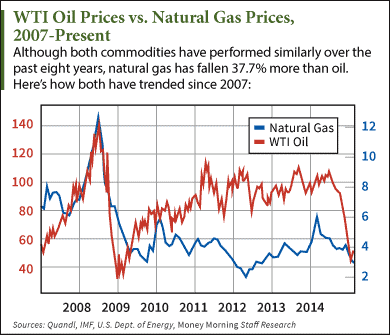 Natural gas and crude oil prices usually follow similar patterns because both compete for consumption. The two can be used for many of the same reasons – including electricity generation and petroleum production.
You can see the two mirror each other in the chart to the left. Both saw a bubble-bursting sell-off in 2008. This was due to President Bush's lifted drilling ban and the Lehman Brothers bankruptcy, among many other causes of the financial crisis. WTI plummeted 78.1% from $145.85 in July to $32 in December.
When discussing how much energy oil and gas provide, the price spread between them is significant. That's because natural gas consumers get a lot more bang for their buck…