The 2008-2009 U.S. stock market crash proved the worst since the Wall Street Crash of 1929. The Dow Jones Industrial Average plunged 54% in 17 months.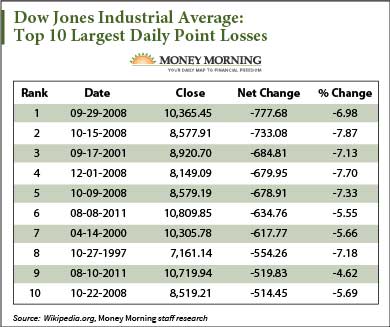 In 2008 alone, the DJIA suffered five out of its top 10 largest daily point losses in history - it sank 429 points in just five minutes on Sept. 29, after the U.S. House of Representatives failed to bail out $700 billion in bank debt. Shortly thereafter, the Dow plummeted 18% (1,874 points) in a week starting Oct. 6.
That same week, the S&P 500 index dropped 20%. It would fall a total 57% from its October 2007 peak of 1,565 points to 676 points in March 2009.
It wasn't just the stock market that plummeted:
Housing prices fell 30% from their 2006 peak.
The unemployment rate doubled from 5% (7 million Americans unemployed) pre-crisis in 2008, to 10% by the end of 2009 (15 million).
And U.S. debt rose from 66% gross domestic product (GDP) to 103% from 2008 to 2012.
To blame was a systemic breakdown that encompassed Wall Street and Washington.
We like to call it the "Washington-Wall Street Corruption Corridor." The power players in politics and finance - some earning millions in salary and commission - together set into motion a stock market crash that wiped out more than $2 trillion of Americans' retirement savings.
And these ten players had key roles...
U.S. Stock Market Crasher No. 1: Angelo Mozilo
Mozilo served as cofounder and CEO of Countrywide Financial Corp. He's now widely regarded as the poster child of corporate misbehavior that led to the 2008 U.S. stock market crash.
You see, Countrywide sold millions of mortgages to homebuyers with less-than-pretty credit histories. In fact, it was the largest sub-prime mortgage lender in the country.
Besides convincing millions of Americans to purchase sub-prime mortgage loans, Mozilo greased the political wheel with "VIP programs" under which he offered certain politicians and government officials special mortgage rates.
His hard work paid off. Mozilo earned a reported $470 million in salary and other income during the housing bubble. He unloaded $141 million in Countrywide stock options prior to the company's share price collapse. While execs like Mozilo cashed out, the company's shareholders hemorrhaged - Countrywide investors suffered a more than $25 billion decline in market capitalization.
Mozilo didn't escape the crisis totally unscathed. On Oct. 15, 2010, he settled with the SEC for securities fraud and insider trading. He paid $67.5 million in fines - the largest settlement by an executive connected to the stock market crash.
Mozilo never admitted to any wrongdoing and was never pursued criminally.
Meanwhile, Bank of America Corp. (NYSE: BAC) acquired Countrywide in a fire sale in 2008 for $4 billion - a costly mistake. The bank paid a record-breaking $16.65 billion settlement in August 2014 over allegations it, via Countrywide, tricked investors into buying subprime loans.
U.S. Stock Market Crasher No. 2: Dick Fuld
In 2008, three of the largest American investment banks fell, and Lehman Brothers was the first to go. It filed for Chapter 11 bankruptcy protection on Sept. 15, 2008 - the largest in U.S. history at $613 billion in debts outstanding.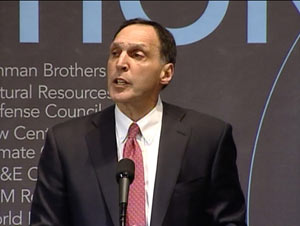 Dick Fuld, the "Gorilla" on Wall Street, was the man in charge when Lehman folded. He'd gotten the company into large positions in subprime mortgages. It even made its own subprime loans. Lehman passed on that toxic debt by the billions to investors in the form of bonds.
Once his methods began to unravel, Fuld failed to recognize his firm was in trouble and take steps to prevent it. He rejected offers from Warren Buffett and others to inject capital or merge. In a 2009 book A Colossal Failure of Common Sense, author Larry McDonald (a former senior Lehman Brothers trader) said Fuld required the firm's chief risk officer to leave the boardroom during key discussions.
In the first half of 2008 alone, Lehman's share value dropped 73%, and the company was forced to sell off $6 billion in assets.
Fuld, who'd earned a salary of $34 million in 2007, and $40.5 million in 2006, managed to save much of his wealth despite his bad behavior. For example, on Nov. 10, 2008, he "sold" his $13.75 million Florida mansion to his wife for $100 to protect his assets.
This next stock market crasher said it was a "mistake" to push people to buy housing they couldn't afford - but said it about five years too late...