Don't let fears over the Greek debt crisis scare you away from a promising Europe ETF play.
After all, the European markets don't seem too concerned. Just look at the events that unfolded this week.
Greece presented to the Eurogroup - finally - its most detailed, explicit outline for reform yesterday (Thursday). Eurozone officials and bailout monitors holding 7.2 billion euros ($7.9 billion) in Greek bailout money on lock were unimpressed.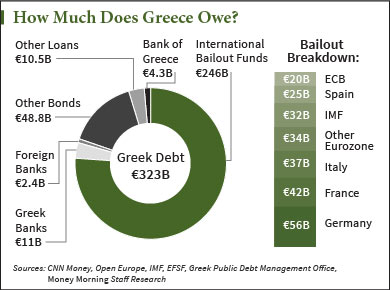 Reforms fell short of addressing labor and pension costs - conditions that populist Greek Prime Minister Alexis Tsipras is loath to address. After all, it was his promise to fight for minimum wage increases and an end to austerity that swept him and his Syriza party to victory in January.
And Greece needs those 7.2 billion euros. Badly.
This week has seen a number of conflicting reports on the state of Greek finances.
Early yesterday, Reuters reported that Greece would run out of money on April 9. Greece's finance ministry later rebuffed those reports, saying it would have enough money to pay off 446.7 million euros ($490.3 million) in loan repayments due to the International Monetary Fund on April 13.
But even if Greece does pay off its IMF loan, does it have enough cash to rollover 2.4 billion euros ($2.6 billion) in treasuries that come due between April 14 and April 17?
And the debt payments don't stop there. In May, Greece needs to pony up another 744.5 million to repay principal on another IMF loan. Between May and July, Greece has to rollover 5.4 billion euros ($5.9 billion) in treasuries. In July, it has to pay 3.5 billion euros ($3.8 billion) on maturing bonds.
Those are the problems Greece is facing. It goes far beyond this single IMF loan that was bandied about in the financial press all this week.
The reports are so mixed that it's impossible to know for sure when Greece will exhaust its cash coffers.
But if Greece were on sound financial footing, it wouldn't have been seeking Chinese and Russian help.
And near the end of last month, reports surfaced that Prime Minster Tsipras' cousin went hat in hand to Tehran begging for money.
Greece can't repay its debts. This Greek debt crisis will only end in a default or a Greek exit - both of which have dire implications for the Eurozone.
And European markets hardly seem scathed by this.
That's why this Europe ETF play is a good way to jump in on the current investor indifference over Greece...