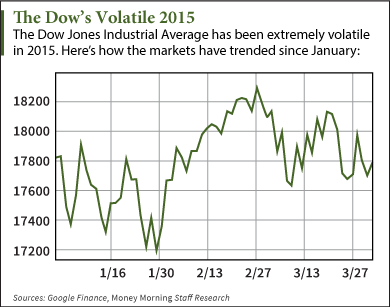 The stock market has been extremely volatile in 2015.
From Jan. 22 to Jan. 30, the Dow Jones Industrial Average dropped 4.1%. Over the next month, it climbed 6.5% through March 2. The DJIA dropped another 3.8% by April 1.
That's why it's a good time to look at the best blue-chip stocks to buy today.
Blue-chip stocks are less susceptible to market fluctuations. They're foundational investments that bring solid, safe returns for years. They are also internationally recognized companies with strong financials and huge market capitalizations.
A good example of this stability is the performance of a blue-chip mutual fund, like the Fidelity Blue Chip Growth Fund (MUTF: FBGRX). It invests at least 80% of its assets in blue-chip stocks from the Dow and S&P 500. While the DJIA has dipped 0.3% in 2015, the mutual fund is up 5%.
Best of all, blue chips pay steady dividends for years.
Our stock market predictions show 2015's volatility continuing into Q2. So consider adding one of these three blue-chip stocks to your portfolio today...
Blue Chip Stocks to Buy No. 1: Intel Corp. (Nasdaq: INTC)
Intel Corp. (Nasdaq: INTC) is one of the best tech stocks on the market says Money Morning's Defense and Tech Specialist Michael Robinson.
You see, Intel owns a massive microchip factory in Vietnam - it's the size of six football fields - which few investors know about it. And according to Robinson, it's a massive wealth opportunity for the company and investors.
"Roughly 80% of this year's central processing units (CPU) for PCs will be made not just in Vietnam, but in a single location - Saigon Hi-Tech Park," Robinson said. "The plant that will produce all these chips is owned by Intel."
In 2014, that factory alone accounted for $1.8 billion in exports.
"And don't forget: Intel is revamping operations to focus on the high-growth sectors of mobile and wearable tech," he said. "In mobile, Intel is particularly focused on low-power, high-performance chips for tablets. The company wants to sell 40 million a year, four times what it sold in 2013."
Another boost for INTC investors is the dividend. Intel has paid and regularly raised dividends since 1992. Right now, the INTC dividend yields 3.11%.
INTC stock has pulled back in 2015, and it opened April 1 at $31.13. That's an excellent buy-in point for the stock that's up 18% in the last year.
"Intel may be the old man of Silicon Valley - where we're always looking for the next, next thing - but this veteran company remains one of the best tech stocks to buy," Robinson said.
Money Morning members: Continue reading for two more of the best blue-chip stocks to buy now...
Blue Chip Stocks to Buy No. 2: Royal Dutch Shell (NYSE: RDS.A)
Royal Dutch Shell Plc. (NYSE ADR: RDS.A) is a $192 billion multinational oil corporation based in the Netherlands. In 2014, Royal Dutch Shell was the largest company in the world by revenue according to Statista.
Even though oil prices have tanked roughly 50% since June 2014, RDS.A stock has dipped just 18% in the last 12 months. That's providing us with a great entry point now.
Money Morning's Global Energy Strategist Dr. Kent Moors says oil prices will rise in 2015.
"I do believe oil prices will climb significantly by late August," he said. "Assuming there are no new geopolitical 'wild cards' that cause prices to spike higher, I believe oil prices will rise to about $58 a barrel in New York and $65 a barrel in London."
And any geopolitical events like the current crisis in Yemen could send prices higher in a hurry.
The best way to play this coming rise in oil prices is investing in major oil companies like Royal Dutch Shell.
"While the turnaround in oil stock fortunes might be delayed, a solid 'play' in the interim would be to focus on stocks with secure dividends to boost returns until they inevitably rally," Moors said.
In the meantime, RDS.A stock's dividend has a yield of 6.25%. That ensures investors have cash coming in as they wait for oil's rally.
In Q4 2014, Royal Dutch Shell reported $4.2 billion in earnings. That was an increase of 91%, even as oil prices were tumbling. Full year earnings were up 14% to $22.6 billion for 2014.
Blue Chip Stocks to Buy No. 3: Apple Inc. (Nasdaq: AAPL)
Apple Inc. (Nasdaq: AAPL) stock has weathered the market's recent turbulence better than anyone, gaining 13% in 2015. In the last 12 months, AAPL is up 62%.
But this isn't the time to take profits on AAPL stock if you've been holding it. This stock still has plenty of upside.
"I wouldn't be selling Apple stock right now," Money Morning's Defense and Tech Specialist Michael Robinson said on FOX Business in March. "I think we still have a lot of momentum left on this stock. I have a $142.85 target on this for Labor Day 2016."
And one of the biggest reasons for our bullish outlook is the Apple Watch.
The lowest-level version of the Watch will retail near $349, and the mid-level Watch at $549. Margins on those products are expected to fall between 40% and 50%. But Apple is also working on a gold luxury version that will retail between $10,000 and $17,000. The margins on that one should push 80%.
Apple already has some of the highest margins in the industry, with gross profit margins of 39.9% in the last quarter. That was up from 37.9% the previous year.
The rest of its financial figures have us bullish too...
In the upcoming quarter, AAPL is expected to post earnings per share of $2.12. That's 27.7% growth from last year. Revenue is expected to climb 21.4% to a whopping $55.4 billion this quarter alone. For the full year 2015, revenue should reach $226 billion.
"It's inexpensive on a price/earnings basis relative to the market, it's inexpensive to a lot of other companies on an enterprise value basis relative to its cash flow yield. It's a cash flow generating machine," said Money Morning Capital Wave Strategist Shah Gilani said.
"They are such a juggernaut," added Money Morning's Technical Trading Strategist D.R. Barton said in February. "If you're a money manager and you don't have Apple in your portfolio it's basically financial suicide.
Apple pays a modest dividend to investors too, with a yield of 1.5%.
The Bottom Line: The markets have been extremely volatile in 2015. The best way to play that volatility is to buy blue-chips stocks that hold their value even when the markets are turbulent. The three best blue chip stocks to buy today are INTC, RDS.A, and AAPL.
Make More Money This Year, No Matter What the Market Does... You can make 2015 your wealthiest year in a few simple moves. You just need the three common investing habits to dump immediately, the single most effective strategy for your portfolio, and five stocks to get you started to a wealthier you. Get all of that right now in this exclusive guide...