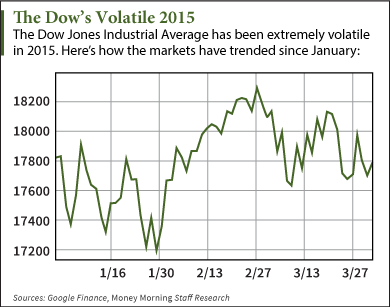 The stock market has been extremely volatile in 2015.
From Jan. 22 to Jan. 30, the Dow Jones Industrial Average dropped 4.1%. Over the next month, it climbed 6.5% through March 2. The DJIA dropped another 3.8% by April 1.
That's why it's a good time to look at the best blue-chip stocks to buy today.
Blue-chip stocks are less susceptible to market fluctuations. They're foundational investments that bring solid, safe returns for years. They are also internationally recognized companies with strong financials and huge market capitalizations.
A good example of this stability is the performance of a blue-chip mutual fund, like the Fidelity Blue Chip Growth Fund (MUTF: FBGRX). It invests at least 80% of its assets in blue-chip stocks from the Dow and S&P 500. While the DJIA has dipped 0.3% in 2015, the mutual fund is up 5%.
Best of all, blue chips pay steady dividends for years.
Our stock market predictions show 2015's volatility continuing into Q2. So consider adding one of these three blue-chip stocks to your portfolio today...
Blue Chip Stocks to Buy No. 1: Intel Corp. (Nasdaq: INTC)
Intel Corp. (Nasdaq: INTC) is one of the best tech stocks on the market says Money Morning's Defense and Tech Specialist Michael Robinson.
You see, Intel owns a massive microchip factory in Vietnam - it's the size of six football fields - which few investors know about it. And according to Robinson, it's a massive wealth opportunity for the company and investors.
"Roughly 80% of this year's central processing units (CPU) for PCs will be made not just in Vietnam, but in a single location - Saigon Hi-Tech Park," Robinson said. "The plant that will produce all these chips is owned by Intel."
In 2014, that factory alone accounted for $1.8 billion in exports.
"And don't forget: Intel is revamping operations to focus on the high-growth sectors of mobile and wearable tech," he said. "In mobile, Intel is particularly focused on low-power, high-performance chips for tablets. The company wants to sell 40 million a year, four times what it sold in 2013."
Another boost for INTC investors is the dividend. Intel has paid and regularly raised dividends since 1992. Right now, the INTC dividend yields 3.11%.
INTC stock has pulled back in 2015, and it opened April 1 at $31.13. That's an excellent buy-in point for the stock that's up 18% in the last year.
"Intel may be the old man of Silicon Valley - where we're always looking for the next, next thing - but this veteran company remains one of the best tech stocks to buy," Robinson said.
Money Morning members: Continue reading for two more of the best blue-chip stocks to buy now...