The biotech industry is offering some of the best cheap stocks to invest in now.
You see, biotech stocks have faltered in the last two weeks. Since March 20, the Nasdaq Biotechnology Index has dipped nearly 7%.
But this isn't a time to sell. We're adding to our biotech stock positions now.
While some stock market prognosticators claim we're in a biotech bubble, that is not the case. The last two weeks have just been a speed bump for the market.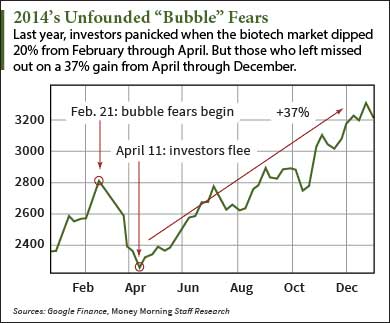 "The correction we're seeing now seems to happen every year at about this time, like clockwork," Money Morning's Biotech Investing Strategist Ernie Tremblay said. "There are always things going on in the news that seem to explain the drop, but the meta-picture is simply this: the market breathes in, and the market breathes out."
We saw a very similar pattern last year at this time. From mid-February through mid-April of 2014, the Nasdaq biotech index dipped 20%. At the time, the same Wall Street experts came out with their "sky is falling" predictions.
But Tremblay preached patience. Investors who stayed in biotech enjoyed the sector's 37% climb through the year's end.
This year is more of the same. So now that biotech is giving us a buying opportunity, we look for cheap stocks to invest in. Here are three bargain biotechs we like now...
Cheap Stocks to Invest In No.1: Orexigen Therapeutics Inc. (Nasdaq: OREX)
The first stock that Tremblay recommends is Orexigen Therapeutics Inc. (Nasdaq: OREX). It's a play on the United States' $20 billion-a-year weight-loss industry.
More than two-thirds of adults and one-third of children in the United States are overweight. And despite those high numbers, there are still very few weight reduction medications.
Many diet drugs come with severe side effects, and others aren't covered by insurance companies. That's where Orexigen comes in.
Its new weight-loss drug Contrave was shown to reduce heart attacks by 30%, strokes by 37%, and heart-related deaths by 74% in its interim trials. Instead of producing side effects, it showed long-term health improvements independent of weight loss.
"If these numbers hold up, there is no doctor who would balk at effecting substantial cardiovascular health improvement in his patients, while helping them keep their weight under control," Tremblay said. "And it's unlikely that any insurance company wouldn't put the drug on its formulary [the list of drugs it covers]."
Tremblay cautions investors from getting too caught up in interim results, because the drug still hasn't received full FDA approval. But the potential for the drug, and its impact on OREX stock is still massive.
"If the final data bears out the interim results, we could be looking at the real gold in the weight-loss hills - one of the biggest medical blockbusters of all time," Tremblay said.
OREX shares trade at $7.68, even after climbing 26% in 2015. If Contrave continues to show positive results like it already has, the stock won't remain cheap for long.
Money Morning members: Continue reading for two more of the best cheap stocks to invest in now...