The gold/silver ratio is yet another indication that silver is grossly underpriced.
Simply put, the gold/silver ratio is the price of gold divided by the price of silver.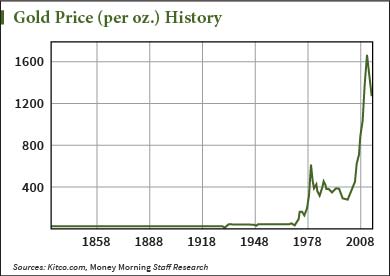 It is the "oldest continuously observed exchange rate in the world," according to Shayne McGuire, an emerging markets equities and gold fund manager for Teacher Retirement System of Texas and author of The Silver Bull Market: Investing in the Other Gold.
McGuire also points out in his book that the gold/silver ratio is historically out of balance. For thousands of years the ratio of gold's value to silver's value was about 14 to 1.
And from 1833 to 1876, that ratio was below 16-to-1. This was before it took off, never to return to those levels again until 1979. And even that was a special case, when the Hunt family famously cornered the market and manipulated prices up.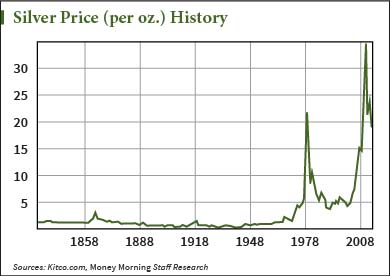 Charts of the gold price history and silver price history show just how much this ratio has changed.
Coming into the 20th century, the steady gold/silver ratio started to become more volatile. It strayed far from the 14-to-1 historical standard. It was as high at 98-to-1 in 1939. It hasn't hit that peak since.
But it's still unjustifiably high.
By 2014 average prices, the gold/silver ratio was 66-to-1. That number has only climbed in 2015. As of yesterday's closing spot gold price and spot silver price, the ratio was about 72-to-1.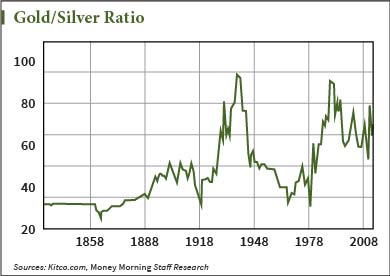 "Odds are it's topping out, or about to do so soon. That means the gold/silver ratio will likely revert to its longer-term average and start trending back down," Money Morning Resource Specialist Peter Krauth said.
It's not just that the gold/silver ratio is more than five times its historical average that indicates silver is underpriced.
It's also its scarcity in relation to gold.
Here's what that says about the price of silver today…
What the Gold/Silver Ratio Shows Us About Silver's Value
According to Goldcorp Inc. (NYSE: GG), there is one gram of silver for every 12.5 metric tons of earth.
And there's one gram of gold for every 250 metric tons.
Just by those measures, the true ratio of gold prices to silver prices should be 20-to-1.
That means that at yesterday's spot closing price of $1,214 an ounce, silver prices should be at $60.70 an ounce to align with that ratio. That's 264% above the current price of silver at $16.965 an ounce.
This points to a frustrating reality about silver prices…