While some folks prepare for retirement after the age of 50, others see this midlife milestone as an opportunity for absolute change. After all, who knows - people with enough gumption and resourcefulness can become self-made millionaires after the age of 50 - even when unfortunate circumstances are the agents of change.
Ken Budd, executive editor of the AARP magazine, says that "seeking business success in one's golden years is especially common among today's baby boomer generation." Perhaps younger folk (the whippersnappers) could stand to learn a few lessons from them...
Here's a look at how five self-made millionaires hit it big later in life.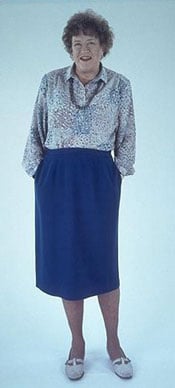 Five Self-Made Millionaires Who Earned Their Fortunes After Age 50
Julia Child: One of the most famous post-fifty success stories is that of Julia Child, who started taking French cooking lessons when she moved to France with her husband. In 1949, at age 37, she was accepted to the exclusive Parisian cooking school Le Cordon Bleu, starting out at "housewife" level lessons. Though she advanced quickly through many classes, when it was time for her to enter an "expert level" course on haute cuisine, she was deemed unqualified and was placed instead in a class for restaurateurs. There, she was the only woman among eleven men. Julia stuck it out despite the incredible gender disparity of the classroom and graduated in 1950 (though she failed her first exam). After this, she decided to pursue her dream of constructing a cookbook. Seven years later, having collaborated with two other women, Julia Child was picked up by an agent at Alfred A. Knopf. In 1961, her cookbook Mastering the Art of French Cooking, Vol. I was released and instantly adored. By 1962, 12,000 copies had been sold. Julia turned 50 that same year. In the subsequent decades after the cookbook's initial release, Child wrote several more cookbooks and eventually hosted her own television show. Her total net worth was $38 million when she died on Aug. 13, 2004, two days before her 92nd birthday.
Money Morning subscribers, continue reading to find out how a 66-year-old man started a restaurant that's now a household name...