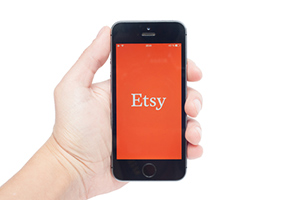 The Etsy IPO date is set for Thursday, April 16. The company will list on the Nasdaq under the ticker "ETSY."
The deal has become one of the most talked-about tech offerings so far this year. The Etsy IPO could become the largest technology IPO from a New York-based company since barnesandnoble.com spun off Barnes & Noble Inc. (NYSE: BKS) in 1999.
With the Etsy IPO date quickly approaching, here's everything you need to know about the deal - including whether or not you should buy Etsy stock when it starts trading...
Your Etsy IPO Questions Answered
What is the Etsy IPO price?
Etsy Inc. (Nasdaq: ETSY) set a price range of $14 to $16 a share for its IPO. The company will announce a final IPO price the evening of April 15.
How much money will the Etsy IPO raise?
Etsy will offer 16.7 million shares. At the midpoint of the price range, the Etsy IPO will raise $250 million.
How much is Etsy worth?
Following the IPO, Etsy will command a valuation of roughly $1.8 billion. That makes it the third most valuable tech IPO so far this year, behind Inovalon Holdings Inc. (Nasdaq: INOV) at $3.4 billion and GoDaddy Inc. (NYSE: GDDY) at $3 billion.
What kind of company is Etsy?
Founded in Brooklyn in 2005, Etsy began as a way for its founders to sell their handmade wooden crafts online. The company now allows users to buy and sell everything from art and photography to food and bath products.
Etsy is considered a "tech" company because of its role in e-commerce, but its culture exudes an entirely different image. Etsy has a B Corporation certification - an award companies receive when they meet certain social, environmental, transparency, and accountability standards. The company fulfills its certification by offering employee privileges like bikes for commuting to work and food waste composting.
But there are some aspects of Etsy's financial growth that trouble potential investors...take a look: