A burst of rumors yesterday (Tuesday) had many investors considering the possibility of Google buying Twitter.
Twitter Inc. (NYSE: TWTR) stock popped 4% yesterday to close at $52.87, up $2.03 after Barron's posted an item on its website saying that the social media company had not one but two suitors.
One of those allegedly is Google Inc. (Nasdaq: GOOGL, GOOG). The other possible suitor is unknown but would have to be a tech titan with deep pockets such as Apple Inc. (Nasdaq: AAPL) or Microsoft Corp. (Nasdaq: MSFT).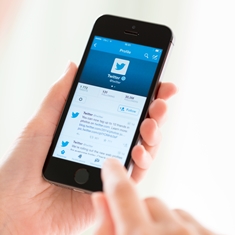 Deep pockets are a prerequisite for any buyer of Twitter. With a market cap of $33.5 billion, the acquisition price would be at least $40 billion and possibly as high as $65 billion.
It would be a lot to swallow, but Google can afford to buy Twitter if it wants to.
As of the end of 2014, Google had $64.4 billion in cash and marketable securities. Since much of Google's cash is overseas and subject to taxation if brought home to the United States, any deal to buy Twitter would probably involve a mixture of cash, stock, and some borrowing.
Of course, for Twitter investors, a major acquisition would be a bonanza.
But how realistic is a deal?
The idea of Google buying Twitter has been around at least since 2009. Back then, Google and Twitter made a deal that allowed tweets to show up in Google search results.
So this marriage makes sense to a lot of people.
In fact, yesterday's rumors weren't even the first time this year that someone has suggested Google buy Twitter.
On Jan. 22, SunTrust Banks Inc. (NYSE: STI) CEO Bob Peck sent Twitter stock up more than 3% when he said just that on CNBC.
"It's not lost on Google that Twitter is the best real-time search engine out there," Peck said. "It would be a tremendous amount of leverage, obviously, having Twitter disseminated across all of Google's products."
While some critics have dismissed the possibility of Google buying Twitter, benefits for both companies could make a deal happen…
Why Google Buying Twitter Would Make Sense
Many people may not realize that Google and Twitter already have a pretty good working relationship.