For April 8, 2015, here's how the stock market did today, the top stock market news, and stocks to watch based on today's market moves…
How Did the Stock Market Do Today?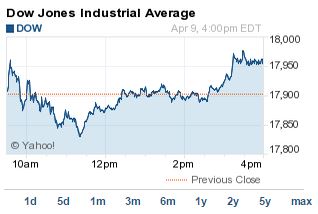 Dow: 17,958.73, +56.22, +0.31%
S&P 500: 2,091.18, +9.28, +0.45%
Nasdaq: 4,974.56, +23.74, +0.48%
The DJIA today gained 56 points as oil prices rebounded and lifted energy stocks. But the dollar's strength limited today's upside and fueled uncertainty over corporate profits as earnings season gets underway.
The S&P 500 Volatility Index (VIX), the market's fear gauge, dipped 5.79% on the day.
Top Stock Market News Today
Rate chatter continued as investors try to pinpoint when the Federal Reserve will tighten monetary policy. Yesterday's release of minutes from the March FOMC meeting indicated a growing divergence of opinion between members of the central bank. With employment in focus, the total number of Americans who filed for unemployment benefits increased by 14,000 to 281,000 for the week ending April 4. The four-week moving average for unemployment benefits is now at its lowest level since 2000, indicating structural improvements in the jobs market and hinting that March's poor jobs report was a one-time fluke.
Oil prices were up on the day after positive economic reports in Germany signaled improved health for the Eurozone's largest economy. In addition, growing uncertainty continues to spread across the markets over a possible deal between the United States and Iran over the latter's nuclear program. Brent oil, priced in London, gained 1.8% to $56.57 per barrel. WTI crude, priced in New York City, added 0.7% to hit $50.79 per barrel.
Shares of Exxon Mobil Corp. (NYSE: XOM) were up 0.7%; Chevron Corp. (NYSE: CVX) gained 0.27%, and Royal Dutch Shell (NYSE: RDS.A) slipped 0.67% as investors continue to raise new concerns over its massive purchase of BG Group Plc. (OTCMKTS ADR: BRGYY) for 47 billion pounds ($70.2 billion).
Stocks to Watch: AA, BBBY, WBA, ZNGA, AAPL
How to Make Money in the Stock Market Today
Every day we give investors a "tip of the day" to find their best profits. Today's tip comes from Money Morning Chief Investment Strategist Keith Fitz-Gerald:
The only thing standing between your portfolio and catastrophic loss is your own caution and proper risk management.
Risk management may not be the most exciting part of investing. But it is the most important.
And a tool called "position sizing" stands out above all others as the most powerful, and not just for cutting risk either, but for boosting your profits, too.
The concept is simple. Controlling the amount of money you place in each trade can lead to bigger profits and mitigate the risk of a catastrophic loss.
Position sizing is the science of cutting risk in your portfolio down to the bone. It answers the question "How big should I make my position for any one trade?"
Many investors think they have this covered with trailing stops that take them out of an investment when some predetermined limit is hit.
Position sizing is different. It's about determining how much of something you can buy for maximum profits, or even if you can afford to buy in the first place.
Understanding position sizing will put you miles ahead of other investors who spend all their time wondering what to buy while ignoring the critical question of how much to buy.
To learn three different methods for sizing your positions, with step-by-step instructions for each, go here: This One Risk Management Tool Made the Difference Between Bankruptcy and $13 Million