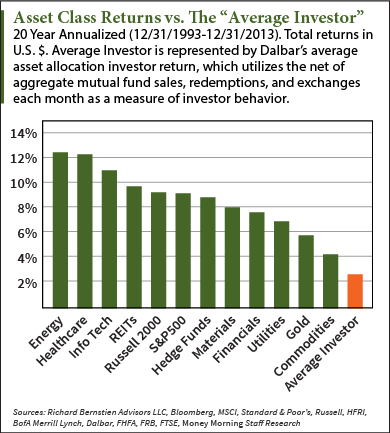 When investors don't have a clear plan for how to play the stock market, they set themselves up to underperform - sometimes drastically.
Over the past 20 years, the S&P 500 has averaged a gain of 9.02%. Yet over the same span, individual investors averaged a return of only 2.53% per year.
We know you can do better than the "average" investor. That's why we've compiled a list of the essential do's and don'ts on how to play the stock market and outperform.
How to Play the Stock Market: The Don'ts
How to Play the Stock Market, Don't No. 1: Don't invest with your emotions.
One of the biggest errors investors make is letting their emotions get the best of them. This leads them to focus on short-term market movements and distracts them from long-term wealth-building plans.
Money Morning Chief Investment Strategist Keith Fitz-Gerald has written extensively on the danger of emotional investing. "I chalk it up to the fact that human memories tend to focus on recent events more emotionally than they do longer-term plans that are put together with almost clinical detachment," Fitz-Gerald said. "Simply put, recent knowledge overrides longer-term thinking and memory. And the more extreme the events or the news, the sharper our short-term focus becomes."
When investors frequently take quick actions based on a major news story or event, the effects on their money can be disastrous.
"Think about what happened on 9/11," Fitz-Gerald said. "Most of the world's major markets bottomed within minutes of each other on short-term panic and emotion. Then, when trading resumed days later, they began to climb almost in sync as highly localized events once again faded into the longer-term fabric of our world."
That leads right into the second habit to avoid...
How to Play the Stock Market, Don't No. 2: Don't follow the crowd.
"Humans would rather be wrong in a group than right individually," Fitz-Gerald said. "So the vast majority of investors tend to make decisions, and mistakes, en masse."
Following the crowd is what makes investors sell low and buy high. Rather than analyzing the situation, they find safety in numbers and in following the statistically poor predictions of Wall Street "experts."
"We see this in a phenomenon known as 'chasing returns' or following the hot money," Fitz-Gerald said. "This is why annual performance issues like those published in Forbes, Money Magazine, or Kiplinger's, for example, are so irresistible. And so dangerous."
This occurred in the fall of 2014, during the height of the Ebola crisis. When news broke that Tekmira Pharmaceuticals Corp. (Nasdaq: TKMR) was given clearance by the FDA to test a vaccine in Ebola patients, the stock soared 40% in three days. But since peaking at $29.93 on Oct. 3, it is down 50%. Investors who bought high saw their initial investment cut in half in about two months.
Following the crowd means failing to stick to your own economic interests, which is a dangerous move.
That brings us to the fear factor...
How to Play the Stock Market, Don't No. 3: Don't let fear win.
Many fearful investors park their cash on the sidelines when stock prices go haywire. Or they lack the confidence to pull out of a losing position before the price goes down even more.
The fact is, investors who are afraid of getting hurt by the market hurt both financially and emotionally.
"That's why people are more likely to let a losing position go against them than they are to take profits - because they can't take the 'pain' of being wrong," Fitz-Gerald said. "The fact that they are unprofitable becomes almost irrelevant."
"That's why I do everything I can to enforce the discipline of taking profits and minimizing losses in careful concert with an overall plan."
How to Play the Stock Market Now: The Do's