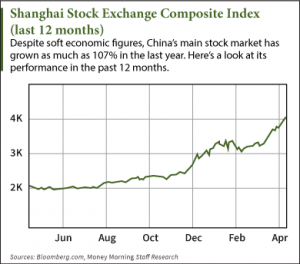 The Chinese stock market bears are no doubt going to seize on the collapse in Chinese exports this month to strengthen the case against investing in China.
But this just means it's an even better time to put some money in the Chinese stock market.
These "bearish" indicators have been routine over the past year. Near the end of 2014, investors saw a slowdown in retail and output. In January, China notched its weakest growth in 24 years. And car sales have begun to fall in what has become the world's most robust automotive market.
And then, there were reports today (Monday) that exports fell 15% in March from the same period last year.
The headlines are fueling further negative investment sentiment for China.
But getting out now or brushing off the Chinese stock market altogether is a mistake.
"A big percentage of the time, the best time to buy something is when everyone else hates it," Money Morning Executive Editor Bill Patalon said. "China has been out of favor and there are a lot of concerns about it, but the reality is that over the long-haul, I don't think you're going to stop the social and economic progress that you're seeing. I think that's what you have to look at."
With China, investors are looking at a country with 1.4 billion people. This has already spawned a massive consumer market that is going to grow in the years to come. And both the growth of the economy and the middle class is only going to bolster the case for investing in China.
This past year, the Chinese economy overtook the United States in purchasing power parity (PPP) terms. According to consulting firm A. T. Kearney, GDP per capita in PPP terms has grown from $5,040 in 2005 to $11,940 in 2013. That's projected to grow to $20,810 in 2020, according to the Economic Intelligence Unit.
"The economic forces that are at play there - you're just not going to stop it," Patalon said. "The economic center of the world is shifting to Asia. And China is going to be the linchpin to all that. You have to have some money there."
That being said, China won't come without its problems.
"Right now they're talking about growth slowing and all these credit problems over there," Patalon said. "There's instability socially, there's a big problem with income inequality, there are issues with food quality, there are a lot of issues about patent protection and intellectual property - and all that stuff is true."
But investors can't ignore the growth potential of China. While everyone else is looking the other way, now is a good time to start buying.
Here's where you can begin investing in China today...