For April 13, 2015, here's how the stock market did today, the top stock market news, and stocks to watch based on today's market moves…
How Did the Stock Market Do Today?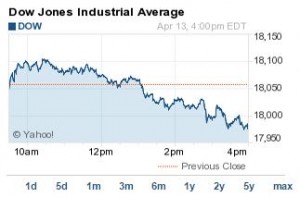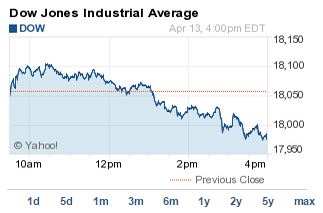 Dow: 17,977.04, -80.61, -0.45%
S&P 500: 2,092.43, -9.63, -0.46%
Nasdaq: 4,988.25, -7.73%, -0.15%
The DJIA today slipped 80 points on investor fear that a stronger U.S dollar will negatively affect earnings. The Nasdaq traded briefly above 5,000 before falling 7 points on the day.
The S&P 500 Volatility Index (VIX), the market's fear gauge, surged 11.69% on the day.
Top Stock Market News Today
The Obama administration proposed new regulations for offshore oil and natural gas development. The rules are aimed at preventing another ecological disaster like the oil spill at BP Plc.'s (NYSE: BP) Deepwater Horizon rig in 2010. The rules will require higher standards for well construction, aimed at preventing a similar blowout. Shares of Transocean Ltd. (NYSE: RIG) were down 1.27% on the day, while BP stock slipped 0.77%.
The markets will see seven upcoming IPOs this week, with the most anticipated launch being the Etsy IPO. The online marketplace will be the first company of its kind to go public since Alibaba Group Holding Ltd. (NYSE: BABA) – the largest U.S. IPO ever. For a breakdown of the seven deals, which are expected to raise more than $1.2 billion combined, get our full analysis here.
Earnings season is in full swing, and tomorrow is one of the most important days of the quarter as financial firms begin to issue their reports. Look for earnings announcements from JPMorgan Chase & Co. (NYSE: JPM) and Wells Fargo & Co. (NYSE: WFC). In addition, keep an eye on reports from Intel Corp. (Nasdaq: INTC), CSX Corp. (NYSE: CSX), and Johnson & Johnson (NYSE: JNJ).
Stocks to Watch: NFLX, GE, JNJ, SHLD, AAPL
What Investors Must Know This Week