Not all U.S. companies have been hurt by the dollar's year-long rally. Companies that share one key trait – let's call them strong-dollar stocks – are thriving.
Many multinational companies have seen the strong U.S. dollar eat into their earnings over the past few quarters.
That's because a strong dollar makes U.S. goods more expensive to foreign buyers, while making imported goods cheaper in the United States.
In January Procter & Gamble (NYSE: PG) blamed the strong dollar for a 31% drop in profits in the December quarter. Overseas sales account for two-thirds of the company's revenue.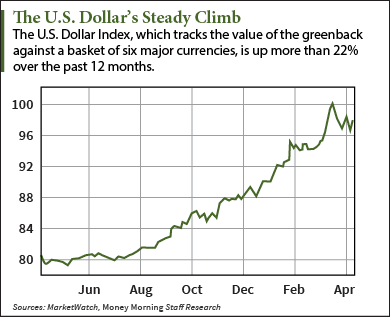 Expect more of the same from a lot of big companies as we head into a fresh earnings season. Nearly one out of three (30%) of the companies in the Standard & Poor's 500 get more than half of their revenue from outside the United States.
But we'll hear a different story from the strong-dollar stocks. This group of companies has little or no exposure to foreign markets. That is, they sell most or all of their goods and services within the United States.
In times of a strong dollar, that's a major advantage.
The U.S. dollar has had an extraordinary run over the past year. It's up more than 22% over the past 12 months – quite a jump for a currency. And this isn't likely to change any time soon, despite a slight pullback in March.
The main reason is that other central banks in the world, particularly the European Central Bank and the Bank of Japan, have become much more aggressive with monetary easing than the U.S. Federal Reserve.
"The bigger, broader pieces are that the U.S. economy should still outperform and the Fed is likely to raise interest rates sooner than everyone else. The dollar strength story is still intact, we're just in a pause because the dollar lacks a catalyst to push it to new highs," Camilla Sutton, chief currency strategist at Scotiabank in Toronto told Reuters.
That means these strong-dollar stocks are good bets for the foreseeable future…