A Netflix stock split may be coming as soon as June 9, 2015.
That's when Netflix Inc. (Nasdaq: NFLX) will hold its annual meeting, where investors will vote on the potential NFLX stock split.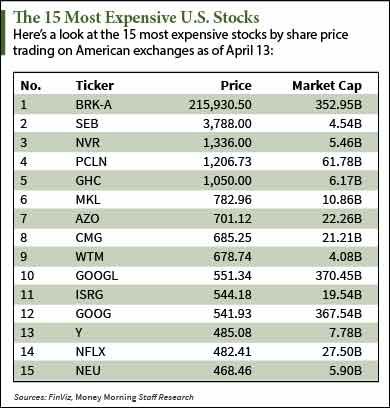 In a regulatory filing Friday, Netflix officials proposed increasing the number of NFLX shares authorized from 170 million to 5 billion. Netflix previously had a two-for-one stock split in 2004.
According to the filing, the Netflix stock split would allow better flexibility for dividends, equity financing, and acquisitions. The company has not yet determined the ratio for the stock split.
Netflix settled on the 5 billion total saying it is comparable to the number of shares of other major tech firms. Apple Inc. (Nasdaq: AAPL) has 5.8 billion shares outstanding, while Microsoft Corp. (Nasdaq: MSFT) has 8.2 billion, and Facebook Inc. (Nasdaq: FB) has 2.2 billion.
A Netflix stock split would also bring down the price of Netflix shares considerably. According to FinViz, NFLX has the 14th most expensive share price on American exchanges at more than $476 per share.
"At a lower price point, there's a perception the stock is more accessible," Netflix spokeswoman Anne-Marie Squeo told Bloomberg.
Shares climbed 3.4% following the news Friday. NFLX stock jumped another 5% on Monday morning after UBS upgraded its rating from "Neutral" to "Buy" and set a price target of $565. NFLX shares hit an intraday high of $485.00 Monday.
NFLX is now up 39.6% in 2015. That compares to gains of just 1.4% for the Dow Jones Industrial Average and 2.2% for the S&P 500.
And even though it has vastly outperformed the broader markets in 2015, retail investors should be cautious with NFLX stock...
How to Play NFLX Before a Netflix Stock Split
Money Morning's Defense and Tech Specialist Michael Robinson says Netflix offers a great product, but the stock is not worth the risk right now.
"I love the company and am an avid user of the product. My teenage daughters are on it all the time," Robinson said. "However, at NFLX stock's current price I have it as a hold. Not because I doubt the company's overseas growth trajectory, but Apple's new bundled streaming service is coming out in the fall. I'd like to see how that plays out."
"Plus, it's been pretty volatile over the last several months and I would rather have stability in this market," Robinson said.
That volatility is also a major turn off for Money Morning's Capital Wave Strategist Shah Gilani.
"If you owned this stock in the third quarter, on Oct. 15 you thought 'This is a great stock.' On Oct. 16, it opened down 25%," Gilani said. "I don't like to wake up to a quarter of my investment gone."
[epom key="ddec3ef33420ef7c9964a4695c349764" redirect="" sourceid="" imported="false"]
The bundled streaming service from Apple represents another one of Netflix's biggest concerns: competition.
Apple Inc. (Nasdaq: AAPL) announced in March it's planning to launch a streaming-TV service that will cost users about $30 to $40 a month. HBO launched its own standalone service called HBO Now earlier this month.
"Netflix has too much competition in everything it's trying to do," Gilani said on FOX Business. "I don't know whether it's a tech company, a content company, or whether it's a distribution company. And in all of those areas it has plenty of competition."
A good barometer for a stock's value is its price/earnings to growth (PEG) ratio. A PEG ratio of 1.0 is considered fair value for a company. Right now, Netflix has a PEG ratio of 5.76, meaning it is heavily overvalued.
Recent insider transactions are another warning sign for Netflix stock. On Feb. 23, CEO Reed Hastings sold more than $20.5 million worth of NFLX stock. On March 25, he sold another $18.7 million in shares.
The volatility of the broader markets in March has Robinson recommending more stable tech stocks like Apple. It's trading at a much more affordable price - $127 per share - and has a stronger revenue stream. Analysts expect revenue of $55.2 billion for Apple this quarter compared to $1.57 billion for Netflix.
Robinson says that aggressive investors may want to consider NFLX if it drops as low as $350. But even that strategy is for investors who can stomach considerable risk.
The Bottom Line: NFLX stock is up this week on news of a possible Netflix stock split in June and a new bullish forecast. But for retail investors, NFLX stock is just too risky right now. The stock is too volatile, too pricey, and faces too much competition at the moment. Tech investors should look at a safer play like AAPL.
Make 2015 Your Wealthiest Year Yet... It just takes four easy steps to get started. We tell you what they are in our money-making guide for 2015. You'll get the three bad investing habits to dump immediately and the single most effective strategy to maximize returns. BONUS: You'll find out five stocks that will get you started on the road to wealth...
Related Articles: