The Etsy IPO has been met with equal amounts of hype and skepticism. One reason for skepticism is the Etsy IPO valuation is $1.8 billion. And if the deal raises $250 million on April 16, Etsy Inc. (Nasdaq: ETSY) will be the largest tech IPO from a New York-based company in 16 years.
Some investors believe strong sales growth makes ETSY stock a buy. Others view Etsy's enthusiastic commitment to social consciousness as a hindrance to profitability. Etsy even admitted that making money may never happen...
"We have a history of operating losses and may not achieve or maintain profitability in the future," Etsy said in its IPO filing.
So how is a company that might not be profitable worth $1.8 billion? These three charts illustrate where the Etsy IPO valuation comes from...
Etsy IPO Valuation Chart No. 1: Gross Merchandise Volume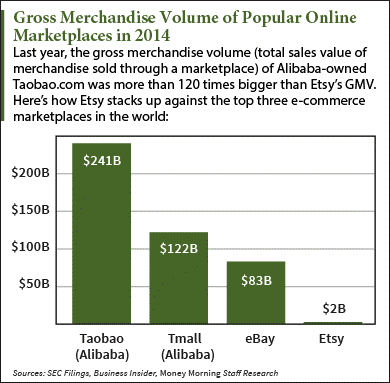 One of the most important metrics that online retailers use for measuring growth is gross merchandise volume (GMV).
GMV is the volume of products sold across an entire site over a given time period. It measures a marketplace's performance and level of activity.
Etsy's GMV is dwarfed by eBay Inc. (Nasdaq: EBAY) and Alibaba Group Holding Ltd.'s (NYSE: BABA) Taobao and Tmall. According to Statista, there were 54 million registered Etsy users as of December 2014. That's 82% less than Alibaba's 300 million users and 65.2% less than eBay's 155.2 million users.
Etsy's GMV isn't noticeable next to these giants because most of the company's users aren't active. Last August, CEO Chad Dickerson said in a CBS News interview that only 1 million people actively sell their goods on Etsy. Alibaba and eBay respectively had 231 million and 112.3 million active buyers. That was back in 2013, so those numbers have likely soared since then.
Here are two more charts that show if the Etsy IPO valuation is justified...
Etsy IPO Valuation Chart No. 2: Revenues and Operating Expenses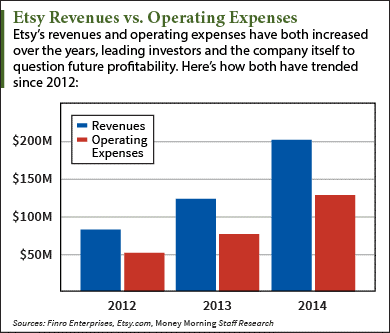 Although Etsy ranks nowhere near Alibaba and eBay, it has done well enough to stand on its own. Etsy's sales and revenue numbers have been strong over the last few years.
In 2014, the company posted $195.6 million in sales. That's a 56.4% increase from its 2013 sales. Etsy's merchants sold $895.1 million worth of products in 2012.
Revenue has seen huge growth over the last three years. It skyrocketed 162% from $74.6 million in 2012 to $195.6 million in 2014. Its revenue numbers have seen an annual revenue growth rate of 72% since 2006.
According to the "Etsy Weather Report" - the company's monthly site-wide statistics - advertising and payment processing make up nearly 80% of Etsy's revenue. Transaction and listings fees make up 55% of revenue and have grown 60% year over year since 2006.
But Etsy's operating expenses have been soaring alongside revenue. Total expenses soared 149% between 2012 and 2014. They leaped 67.6% from 2013 to 2014 alone, totaling $76.5 million in 2013 and $128.2 million in 2014. These numbers are projected to keep growing, which is risky for the company and prospective Etsy stock investors.
"We expect that our operating expenses will increase substantially as we hire additional employees, increase our marketing efforts, expand our operations, and continue to invest in the development of our platform," Etsy's IPO filing explained. "These efforts may be more costly than we expect and our revenue may not increase sufficiently to offset these additional expenses."
These growing losses have made Etsy less valuable than other recent IPOs...
Etsy IPO Valuation Chart No. 3: Other 2015 Tech IPOs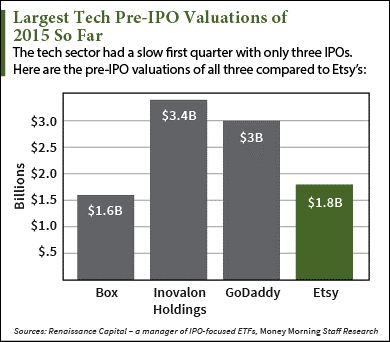 Etsy is considered "tech" because of its role in e-commerce - but its valuation is low compared to other recent tech IPOs.
According to International Business Times, some analysts expect the company's valuation to reach $2 billion before the IPO. Even if it gets there, it still lags behind other big tech deals.
Etsy ranks third among the most valuable tech IPOs this year behind Inovalon Holdings Inc. (Nasdaq: INOV) and GoDaddy Inc. (NYSE: GDDY).
The low valuation stems from Etsy's lackadaisical attitude toward business growth. The company's culture is defined by its B Corporation certification. That means it must adhere to a range of environmental and accountability standards, even at the cost of making a profit. If the company doesn't uphold these standards, B Lab - the company that awards the certifications - could revoke it.
These values have both attracted and repelled investors. Etsy's mission to "do good" and do well can seem contradictory in Wall Street's eyes.
"Our reputation could be harmed if we lose our status as a Certified B Corporation, whether by our choice or by our failure to meet B Lab's certification requirements, if that change in status were to create a perception that we are more focused on financial performance and are no longer as committed to the values shared by Certified B Corporations," the IPO filing stated.
The Bottom Line: The Etsy IPO valuation is questionable as profitability remains skeptical. There are reasons certain investors will like the company - its growing revenue and "do good" culture are attractive to investors seeking a unique tech stock. But overall, its valuation ranks below other tech deals because the IPO filing states Etsy may never make a profit. ETSY stock will have a tough time moving forward once it hits the market - there are much better places for your money.
More on Etsy IPO: Etsy is on track to being one of the most unique stock debuts of the year. But is it worth buying ETSY stock? Here's everything you need to know about the Etsy IPO before it hits the market...
Follow me on Twitter: @AlexMcGuire92
Related Articles: