The Etsy IPO has been met with equal amounts of hype and skepticism. One reason for skepticism is the Etsy IPO valuation is $1.8 billion. And if the deal raises $250 million on April 16, Etsy Inc. (Nasdaq: ETSY) will be the largest tech IPO from a New York-based company in 16 years.
Some investors believe strong sales growth makes ETSY stock a buy. Others view Etsy's enthusiastic commitment to social consciousness as a hindrance to profitability. Etsy even admitted that making money may never happen…
"We have a history of operating losses and may not achieve or maintain profitability in the future," Etsy said in its IPO filing.
So how is a company that might not be profitable worth $1.8 billion? These three charts illustrate where the Etsy IPO valuation comes from…
Etsy IPO Valuation Chart No. 1: Gross Merchandise Volume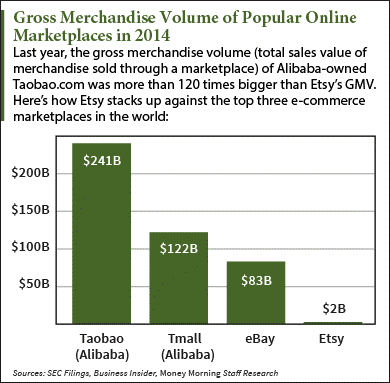 One of the most important metrics that online retailers use for measuring growth is gross merchandise volume (GMV).
GMV is the volume of products sold across an entire site over a given time period. It measures a marketplace's performance and level of activity.
Etsy's GMV is dwarfed by eBay Inc. (Nasdaq: EBAY) and Alibaba Group Holding Ltd.'s (NYSE: BABA) Taobao and Tmall. According to Statista, there were 54 million registered Etsy users as of December 2014. That's 82% less than Alibaba's 300 million users and 65.2% less than eBay's 155.2 million users.
Etsy's GMV isn't noticeable next to these giants because most of the company's users aren't active. Last August, CEO Chad Dickerson said in a CBS News interview that only 1 million people actively sell their goods on Etsy. Alibaba and eBay respectively had 231 million and 112.3 million active buyers. That was back in 2013, so those numbers have likely soared since then.
Here are two more charts that show if the Etsy IPO valuation is justified…