For April 14, 2015, here's how the stock market did today, the top stock market news, and stocks to watch based on today's market moves…
How Did the Stock Market Do Today?
Dow: 18,036.70, +59.66, +0.33%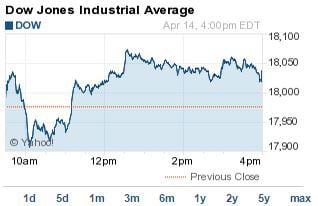 S&P 500: 2,095.84, +3.41, +0.16%
Nasdaq: 4,977.29, -10.96, -0.22%
The DJIA Index gained 59 points as reduced expectations for quarterly profit outlooks were offset by energy sector gains and strong earnings results from JPMorgan Chase & Co. (NYSE: JPM). Shares of the banking giant gained 1.5% on the day. The S&P 500 Energy Index jumped 1.44% on the day.
Top Stock Market News Today
Concerns over a strengthening dollar overshadowed any optimism over improved economic data. Retail and restaurant sales jumped 0.9% in March to a seasonally adjusted $441.4 billion, according to estimates by the U.S. Commerce Department. While this is the largest single gain of the year, it remains lower than November levels.
New York Fed President William Dudley raised new concerns about the municipal bankruptcies in Detroit, Mich., and Stockton, Calif. The member of the Federal Reserve said the two municipal bankruptcies could signal greater problems in cities across America. Dudley raised new worries about bond ratings and said the financial system needs to explore systemic problems in the markets that make bankruptcy the only viable option to absolving debt problems.
Oil Prices Today: Oil prices were on the rise today on news that U.S shale production will post its first monthly decline in four years. The U.S. Energy Information Administration announced that it expects shale production in May of 4.98 million barrels per day, a decline of roughly 45,000 barrels from April. In North Dakota alone, monthly oil production slipped more than 15,000 barrels in February compared to January. Brent oil, priced in London, gained 1.1% this morning to hit $58.60 per barrel. WTI crude, priced in New York City, gained nearly 2.7% to hit $53.33 per barrel.
Stocks to Watch: JPM, XOM, CVX, BP
What Investors Must Know This Week