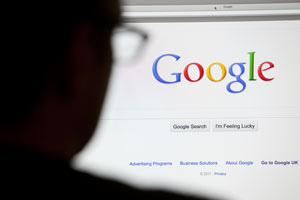 The European Commission filed formal antitrust charges against Google Inc. (Nasdaq: GOOG, GOOGL) on Wednesday.
A Google antitrust lawsuit in Europe has been fermenting for some time now. The EC (the European Union's executive arm) first began investigating the search king five years ago.
Money Morning Chief Investment Strategist Keith Fitz-Gerald - a seasoned market analyst with 33 years of experience - predicted in December a Google antitrust lawsuit would happen at least by fall this year.
"I have maintained for several years that this course of action was likely," Fitz-Gerald said of Google on Dec. 2. "I believe that we'll see a move by Q3 2015 at the latest."
Our guide to the Google antitrust lawsuit will bring you up to date on how all this began, what happened this week, and what to expect from here...
Google Antitrust Lawsuit All Began with a Husband-and-Wife Team
In 2009, England-based comparison-shopping website Foundem was the first company to file antitrust charges against GOOG.
Foundem's husband-and-wife founders Adam and Shivaun Raff said the search site excluded their pages from Google search results. Google ranked its own Google Shopping service ahead of Foundem, pushing Foundem out of the key top spots that came up from Google searches.
"Whereas these penalties used to be reserved for spam, or sites caught attempting to cheat Google's algorithms, they are now increasingly targeted at perfectly legitimate vertical search and directory services," Foundem owners Adam and Shivaun Raff explained on their website.
Then in 2010, a flood of antitrust claims racked up against Google. Competitors like Microsoft Corp. (Nasdaq: MSFT) and Yelp Inc. (NYSE: YELP) backed some of the complainants. Big European press publishers also joined the fight.
That sparked the EC's four-year investigation and determination - which was already settled last year...
GOOG Already Settled European Antitrust Claims Once
In February 2014, the EC finished its investigation. It concluded Google - which accounts for 90% of all Web search in Europe - illegally used its search monopoly in Europe to massage search results.
The EC said the company promoted Google services, hid competitor services, and misled consumers.
But Google actually already settled with the EC. The company agreed to offer a fairer array of search results. For instance, should Google Shopping show up as a top search result, the company would also feature three rival services in top results.
Obviously, the settlement didn't stick...