What happens in the resource sector is a great barometer for the world economy. Looking at where commodities prices are headed can even help us forecast what state the world economy will be in over the coming months.
Let's look at the major commodities, how they performed in Q1, and where they are headed in Q2 2015...
Commodities Prices: Looking Back at Q1 and Ahead to Q2
Commodities 2015: Oil Prices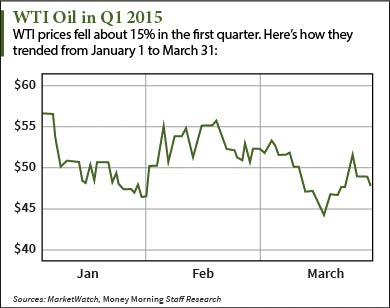 Oil is still the biggest story in commodities prices right now. In June 2014, West Texas Intermediate crude oil prices peaked at $115/bbl. But throughout Q3 and Q4, oil prices declined rapidly as OPEC, led by the Saudis, slashed prices to retain market share.
By the time 2015 started, WTI was priced at $52.50, falling 55% from last summer's peak. Shale oil production was outpacing demand. Oil then moved within a price range of roughly $46 to $55 over Q1.
Lower prices will start having an effect on production in Q2. Reduced shale oil production in North America is already kicking in. The U.S. Energy Information Administration announced yesterday (Tuesday) it expects shale production in May of 4.98 million barrels per day, a decline of roughly 45,000 barrels from April. In addition, Saudi Arabia has begun raising May oil prices to Asian clients.
Look for these two trends to continue over the next three months. With that in mind, we could see oil end Q2 near $60 per barrel.
Commodities 2015: Natural Gas Prices
Natural gas prices have behaved similar to oil prices since last summer and in particular over Q1.
Prices started the year at $2.95 but ended the quarter at $2.64, losing 10.5%. April is when injection season starts, a time when restocking takes place after higher winter consumption.
Natural gas is currently below the five-year average inventories, which is bullish. But much will depend on the weather. An unusually warm spring and early summer will spur consumption and boost prices. Below-normal temperatures will dampen prices.
Given my expectations for higher oil prices and a forecast for higher than normal temperature in the western United States this spring, I think we could see natural gas prices end Q2 around $3.00, or about 14% higher.
Longer term, I'm bullish on natural gas given Mexico's appetite for U.S. exports, which has been gaining steam. This factor should get an even bigger boost in the next couple years as pipeline capacity ramps up, sending even more production southwards.
Now, let's look at where precious metals are headed in Q2 - starting with gold...
Join the conversation. Click here to jump to comments…
About the Author
Peter Krauth is the Resource Specialist for Money Map Press and has contributed some of the most popular and highly regarded investing articles on Money Morning. Peter is headquartered in resource-rich Canada, but he travels around the world to dig up the very best profit opportunity, whether it's in gold, silver, oil, coal, or even potash.