The Etsy IPO has polarized investors.
Some believe its strong sales growth make Etsy stock a buy. Others believe its commitment to have an impact on society and the environment make it financially unstable. In fact, the company has openly admitted that it isn't profitable.
So how does Etsy make money at all?
Here's how the e-commerce firm stays afloat...
How Does Etsy Make Money? Advertising and Transaction Fees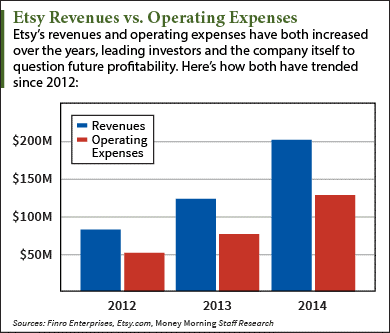 The strongest aspect of Etsy Inc.'s (Nasdaq: ETSY) financial performance is its revenue growth. Over the last nine years, the company has seen an annual revenue growth rate of 72%. Its revenue leaped 162% from $74.6 million in 2012 to $195.6 million in 2014.
The "Etsy Weather Report" - which provides the company's monthly site-wide statistics - said advertising and payment processing make up nearly 80% of Etsy's revenue. Transaction and listings fees make up 55% of revenue and have grown 60% year over year since 2006.
Etsy's reach is big enough to make the company stand on its own. The site itself reports there are 29 million items listed with 1.4 million active sellers and 19.8 million active buyers.
But Etsy's gross merchandise volume (GMV) comes nowhere close to those of Alibaba Group Holding Ltd. (NYSE: BABA) and eBay Inc. (Nasdaq: EBAY).
Taobao and Tmall - Alibaba's two largest sites - had a combined GMV of $363 billion last year. EBay's 2014 GMV was $83 billion. Both overshadow Etsy's $2 billion by a huge margin.
More on Etsy IPO: Etsy is on track to being one of the most unique stock debuts of the year. But is it worth buying ETSY stock? Here's everything you need to know about the Etsy IPO before it hits the market...
Follow me on Twitter: @AlexMcGuire92