With mid-generation baby boomers just entering the retirement wave, their ability to stop working is a hot topic that's getting hotter. Study after study questions the ability of public and private pensions to meet the needs of retirees.
Financial repression through the Fed's Zero Interest Rate Policy (ZIRP) has compounded the problems of underfunded plans and retirement accounts.
And that's on top of publicly funded plans that already face massive shortfalls.
It's all pointing to one clear solution for hopeful retirees...
ZIRP Is Killing Retirement Yields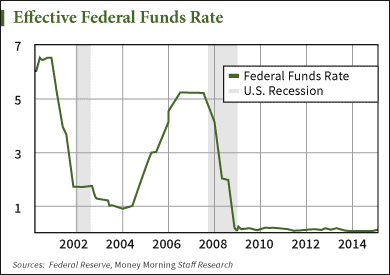 Even after seven years of ZIRP, odds are that even when the Fed does get around to raising rates, it won't be by much. A recent report by global reinsurer Swiss Re says the Fed's ZIRP policy has cost investors $470 billion in lost income through the end of 2013. Why? Low yields are lethal for pension plans and retirees. The effective Federal Funds Rate (shown below) has effectively flat-lined.
But hey, that's not the Fed's problem.
Instead, they're much more concerned with the Treasury's ability to pay the interest on its massive debt.
What's more, research by Bridgewater Associates, the world's largest hedge fund, estimates that 85% of public pensions could go bust within 30 years. Public pension funds currently have about $3 trillion in assets, but will need to pay out nearly $10 trillion over the next several decades. To get there, they'll require 9% yields, yet returns in just the 4% range are far more likely.
Consider the Detroit experience: Pension demands were a major contributing factor in the largest public bankruptcy in U.S. history. In the landmark Motown case, Judge Rhodes ruled pension benefits were not entitled "heightened protection in bankruptcy."
Now the state of Illinois is holding its breath, waiting for a Supreme Court ruling on a lawsuit by workers aiming to overturn 2013 pension reforms. If they're successful, it could cost the state $145 billion in increased taxes over the next 30 years.
Arizona's Supreme Court overturned 2011 reforms which were intended to restrict cost-of-living increases. But the system's already underfunded status (at just 67%) was ignored, contributing further to recurring deficits for a number of cities. In New York, the state and municipalities have resorted to deferring pension contributions, so long as they commit to repay later with interest. $3.3 billion in pension payments have been delayed since 2010... in New York State alone.
This is just a disaster in waiting. With historically low rates that show little, if any, sign of a substantial and sustained increase - no matter what the Fed would like us to think - it's all just a vicious downward spiral.
Meanwhile, employers are typically slowing or eliminating their policy of contributing to workers' 401(k) plans, and defined benefit plans are seeing benefits frozen or simply replaced with leaner plans.
According to a paper by the Center for Economic and Policy Research's David Rosnick and Dean Baker, the average American approaching retirement has just enough wealth to carry him/her just past three years.
Join the conversation. Click here to jump to comments…
About the Author
Peter Krauth is the Resource Specialist for Money Map Press and has contributed some of the most popular and highly regarded investing articles on Money Morning. Peter is headquartered in resource-rich Canada, but he travels around the world to dig up the very best profit opportunity, whether it's in gold, silver, oil, coal, or even potash.