The biggest news about Uber Inc. this week dealt with the company's growing market share, despite its continued legal woes.
In the first quarter of 2015, business spending on Uber accounted for 46% of the overall transportation market. The report was published by Certify, a software company that helps businesses track employee spending. Certify receives more than 28 million trip receipts in North America every year.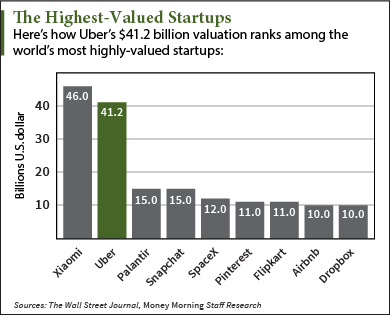 That 46% share was more than three times higher than Uber's Q1 2014 total of 15%.
And Uber's growth is having a devastating impact on the taxi industry. The report found that taxis accounted for 53% of business' transportation spending in 2015. Last year, that total was as high as 85%.
"While we often see noteworthy market shifts – leading restaurant chains and hotels exchanging leadership positions, for example – it is unprecedented to see one vendor grow to take such a commanding market share within one year's time," Certify's CEO Bob Neveu said in a news release.
This growing market share helps explain Uber's huge revenue totals. In January, CEO Travis Kalanick said Uber generates more than $500 million annually from the San Francisco market alone. He also said the number of rides in San Francisco is growing by about 200% per year.
More news about Uber and its funding came out in late 2014, when the company raised $1.2 billion at a valuation of $41.2 billion. That made the company the second most highly valued startup on the market.
Since Uber is not a public company yet, we don't have access to its financials. But we could as soon as late 2015, when an Uber IPO might happen.
But before Uber stock hits the market, the company will need to straighten out a major problem. Even this week's bullish news about Uber won't make this problem go away…