Investors can find treasure among Nasdaq stocks in some unlikely places.
Like heavily "shorted" stocks, for example.
Short sellers borrow stock and sell it at the current price. At some point they must replace the shares they borrowed, which ideally means shares bought at a lower price.
But short sellers can be wrong. If the stock they shorted rises, they lose money. The more a stock rises, the more their replacement shares cost. And the more money the shorts lose.
If the stock rises rapidly, it creates a "short squeeze," forcing short sellers to buy shares quickly before the price goes even higher and they lose even more money.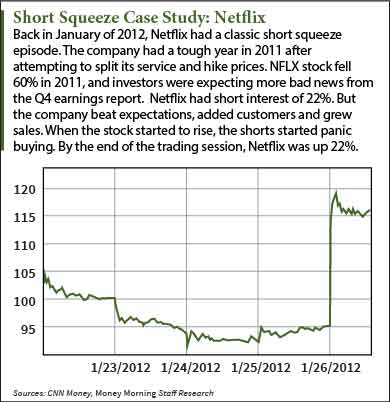 But while a squeeze is the short seller's worst nightmare, it can be a tremendous profit opportunity for everybody else.
That's because a short squeeze drives a stock's price up faster than it would normally go.
The trick is to identify stocks with a lot of short interest that really don't deserve it. In those cases, the odds of a short squeeze are pretty good.
Short interest is simply the percentage of shares available to investors (the "float") that have been sold short. So, if a stock has a float of 100 million shares and 10 million are sold short, the short interest is 10%.
Most stocks have some short interest at any given time – that's normal. But when short interest gets into the 10% to 20% range, it means a significant number of investors see problems with the stock.
And the higher the short interest, the bigger the squeeze if they're wrong. The most shorted stocks can have interest of 40%, 50% or higher.
Another factor that can makes short squeeze worse is the "days to cover." This is the number of days, given the number of shares shorted and the average daily trading volume, it would take to close out all the short positions.
The higher the days to cover, the harder it is for short sellers to exit their positions as a stock's price rises. The lack of liquidity can further fuel a short squeeze situation.
Right now 107 Nasdaq stocks out of approximately 3,100 total have short interest of 20% or more.
And we've found three excellent short squeeze prospects near the top of that list…