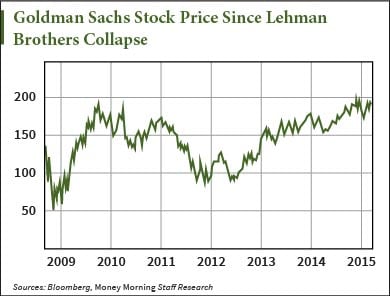 Goldman Sachs stock price movements were muted yesterday (Thursday) on what was a wildly successful earnings season for the investment banking giant.
Goldman Sachs Group Inc. (NYSE: GS) earnings crushed estimates across the board. Goldman posted $10.6 billion in revenue against expectations of $9.3 billion. Earnings-per-share (EPS) came in at $6 on estimates of $4.26. Income came in at $2.8 billion on estimates of $2 billion.
Goldman Sachs earnings didn't just beat estimates - they were their best in years. Sales were at their highest since 2011. Income was at its highest since 2010. And EPS was its highest since 2009.
But traders on the day weren't impressed. The Goldman Sachs stock price fell Thursday to $200.21, a 0.4% drop.
The market's instincts are correct on this one. There is no reason to pile into GS stock right now.
Big bank stocks are not the best place to put your money.
And Goldman Sachs has its own challenges ahead...
Regulatory Gray Areas Will Threaten Goldman Sachs Stock Price
GS stock, like many big bank stocks, doesn't provide much long-term, buy-and-hold value - at least not at this time.
Your best bet on a stock like this is to wait for some sort of banking panic, like in 2008. The collapse of Lehman Brothers and the ensuing financial crisis sent the Goldman Sachs stock price down to $52 by November 2008.
Investors who bought when there was blood in the streets and held until now would have pocketed close to 300% gains.
But the Goldman Sachs stock price has all but hit its ceiling. There isn't another 300% gain on the horizon for GS stock.
If anything, GS stock has even more uncertainty to contend with moving forward, primarily on the regulatory front.
If there's anything the financial collapse taught us, it's that Congress has no shortage of knee-jerk, short-sighted Band-Aids it will attempt to pass under the banner of "Wall Street reform."
Just look at the hastily arranged Dodd-Frank Act...