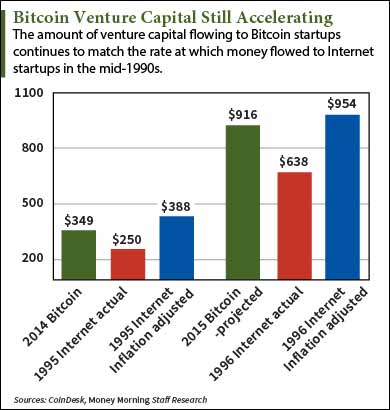 The amount of money venture capitalists are investing in Bitcoin continues to accelerate, demonstrating their faith in the digital currency's potential.
In the first quarter of 2015, venture capitalists poured $229 million into Bitcoin startups. That was more than double the $144 million invested in Bitcoin in Q4 2014.
And it's equal to two-thirds of the $349 million of venture capital invested in Bitcoin in all of 2014.
It puts VC investing in Bitcoin on track to raise $916 million this year. That's more than 2.5 times the 2014 total.
The rate of Bitcoin investment also mirrors very closely the progress of Internet-based startups back in the mid-1990s.
What's most remarkable about the accelerating pace of VC investing in Bitcoin companies is that it has occurred despite a series of setbacks for the cryptocurrency.
Negative News Can't Slow Down Investing in Bitcoin
Remember, it was in February of 2014 that the Mt. Gox Bitcoin exchange collapsed, losing 750,000 customer Bitcoins worth about $350 million at the time.
Other issues that have plagued Bitcoin include:
Unfavorable treatment by several governments, particularly China and Russia.
Scandals involving several top members of the Bitcoin Foundation, the entity created to maintain the Bitcoin software and promoting the cryptocurrency.
The persistence of websites that use Bitcoin as a tool for selling illegal drugs.
The plunge in the price of Bitcoin from $940 in January of 2014 to $177 in January of 2015.
Yet none of that has deterred the venture capitalists.
They recognize the power of a monetary mechanism that can transfer money almost instantly and at a very low cost between any two parties anywhere in the world. The VC crowd also recognizes the power of the Bitcoin blockchain, the technology that underpins the digital currency.
In addition to verifying Bitcoin transactions, the blockchain can store data. That means the blockchain can be used to confirm ownership of property such as housing or autos, as well as for such applications as voting, trademarks, proof of authorship, and more.
The first quarter also revealed another trend. And now venture capitalists are concentrating on the most promising Bitcoin startups.
For example, Coinbase, a Bitcoin wallet and payment company, picked up an additional $75 million of funding in January. Coinbase has now raised a total of $106 million.
And another intriguing company set a record for investing in Bitcoin last month. It raised $116 million in a single round.
Some of the biggest names in venture capital are backing this secretive Bitcoin startup – take a look…