For April 20, 2015, here's how the stock market did today, earnings reports, the top stock market news, and stocks to watch based on today's market moves…
How Did the Stock Market Do Today?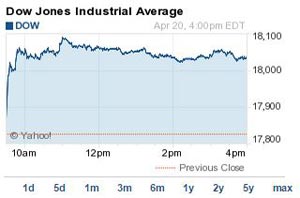 Dow: 18,034.93, +208.63, +1.17%                         
S&P 500: 2,100.40, +19.22, +0.92%
Nasdaq: 4,994.60. +62.79, +1.27%
The DJIA Index rose 208 points Monday. The rally was fueled by better than expected earnings reports and news that China slashed commercial bank reserve requirements by 1%.
In its second industry-wide cut in two months to this metric, the nation has freed up roughly $200 billion for lending in an effort to stave off slowing economic growth.
The S&P 500 Volatility Index (VIX), the market's fear gauge, fell 4.9% on the day.
Top Stock Market News Today
Oil Prices Today: Oil prices were mixed today on news of China's loosening of monetary policy. Brent oil, priced in London, fell 0.2% to $63.26 per barrel. WTI crude, priced in New York City, rose 0.7% on to hit $56.16 per barrel.
Raising Rates: This morning, William Dudley, president of the New York Federal Reserve Bank, attempted to reduce investor worries over mixed earnings reports and the potential effects of a pending rate increase in 2015. Dudley said economic performance will be the primary factor in determining when the Federal Reserve will raise rates.
He's Back: Four years after the infamous demise of MF Global, reports are emerging that Jon Corzine could be preparing to launch a new hedge fund. The former Goldman Sachs Group Inc. (NYSE: GS) chairman and New Jersey Senator is mulling the creation of a new fund that would have roughly $150 million in assets, funded by his own wealth and several outside investors.
Stocks to Watch: GE, MS, CMCSA, HAS, AAPL
What Investors Must Know This Week