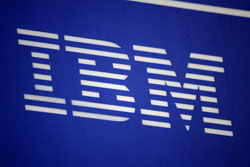 International Business Machines Corp. (NYSE: IBM) earnings were released yesterday (Monday) and there was nothing particularly impressive about them.
IBM posted first quarter sales of $19.59 billion - falling short of Wall Street's expectations of between $19.638 billion and $19.698 billion. Revenue was down 11.9% year over year and it marked the 12th consecutive quarter of declining sales.
IBM earnings did, however, best earnings-per-share (EPS) estimates of $2.81 by $0.10.
IBM earnings came after the bell, but even so, the IBM stock price saw a sudden jolt of euphoria in the lead-up to the IBM earnings release.
Shares closed the day at $166.16 - up 3.4%. IBM stock hasn't traded at these levels since CEO Virginia "Ginni" Rometty's infamous October 2014 repudiation of the $20 EPS pledge for 2015.
So, why is IBM stock rising on a day of unimpressive IBM earnings?
It was all the work of unnecessarily bullish analysts who missed the mark on IBM's current situation.
And a number of traders on the day who were too easily persuaded...
IBM Earnings Don't Support Financial Media Bulls
Yesterday, a pre-IBM earnings article in Barron's by Vito J. Racanelli made a surprisingly bullish case for IBM stock. But it overlooked IBM's real challenges and identified the wrong areas of true value for the company.
Here's a point-by-point look at what the Barron's article highlighted, and a closer look at why IBM can't support its recent stock rally.
Barron's writes:
"IBM is pruning businesses to get rid of poor performers. Last year, it sold three units that produced $7 billion in sales but lost about $500 million."
What it gets wrong:
Barron's is alluding to IBM's customer care, semiconductor, and low-end server businesses when it talks about "poor performers." The problem with painting these three formerly IBM-owned businesses all with the same broad brush of "poor performers" is that not all three were valueless to the company.
Prior to IBM earnings, Big Blue shipped its newest mainframe, the z13, to business clients. IBM mainframe clients are typically the Fortune 100 companies who need to handle mission critical data that can best be handled by the raw computing power of these machines. The problem is that in shedding low-end servers, in its 2014 sale to Lenovo Group Ltd. (OTCMKTS: LNVGY), and refocusing its hardware primarily on mainframes, IBM isn't targeting growth in the segment. It's forfeiting any revenue it could make with the next wave of new companies looking to build data centers in a more cost-effective manner.
IBM has anywhere from 4,000 to 4,5000 mainframe customers, and IBM mainframe sales will only be a net positive for the company over the next three to five years, Gartner mainframe analyst Mike Chuba told Money Morning. After that, it will start bleeding customers a little at a time. That's because "there's leakage of the smaller customers where a mainframe may not be as cost-competitive," Chuba said.
And where are those smaller customers going to go? The very low-end servers IBM got rid of in the Lenovo sale. IBM may maintain high margins, but its hardware revenue growth is only going to stagnate as it fails to replace customers foregoing purchases of the mainframe.
So was it the right move? Perhaps, but it wasn't a black-and-white case of IBM getting rid of an unprofitable segment and priming itself for future growth.
Barron's writes:
"One bullish IBM convert, Lloyd Khaner, who runs Khaner Capital Management, says that while IBM has been slow to the cloud party, it's not too late. By virtue of its size and efforts, 'IBM will eventually be a major player in the cloud.' Many investors might not realize that IBM spent $2.2 billion in cloud investments last year and plans to pump $4 billion more this year."
What it gets wrong:
This fails to mention that IBM has to fight a price war with Amazon.com Inc. (Nasdaq: AMZN) and Google Inc. (Nasdaq: GOOG, GOOGL). Both of those companies care little for high margins because their growth isn't centered on the cloud like IBM's is.
It's more important right now for investors to question how that $4 billion investment is going to be used to effectively bring IBM into the fray with Amazon and Google on cloud.
"If the analysts would get in and say, 'Okay, what's the plan? How much this quarter? How much next quarter? And what are you buying? What are you doing? Give us details,' - they don't have them. What they sell is a dream," tech blogger and author of a book on IBM's struggles, Robert X. Cringely told Money Morning.
Barron's writes:
"A vote of confidence came last year from Apple, which chose IBM to help it penetrate the mobile enterprise applications business."
What it gets wrong:
An Apple Inc. (Nasdaq: AAPL) partnership is not a "vote of confidence" for IBM. Apple has so much cash - $178 billion by the most recent reporting - that its survival as a company doesn't hinge on one partnership, and certainly not its IBM partnership.
[epom key="ddec3ef33420ef7c9964a4695c349764" redirect="" sourceid="" imported="false"]
After all, Apple partnered with GT Advanced Technologies Inc. (OTCMKTS: GTATQ) in November 2013. GT Advanced Technologies was to be Apple's sapphire supplier for "unbreakable screens" in Apple devices. In October 2014, the company filed for Chapter 11. This was hardly a blip on Apple's radar.
It's true that Apple wants to do a better job capturing the enterprise market. And with IBM developing enterprise apps for Apple iDevices this could only be a positive development for Apple. But Apple is still, first and foremost, a consumer tech company. IBM will take a much bigger hit should this partnership fall apart.
"Apple doesn't take it especially seriously," Cringely said. "At the time it was announced they added two headcount to support at headquarters. IBM's saying 'This is the future of our mobile play' and Apple says, 'Okay, we'll add two heads' - it doesn't look like much."
And IBM isn't necessarily delivering on the enterprise apps this partnership was supposed to bring Apple.
"It's very app-centric and the apps have to graduate from the Apple app store and Apple's standards are high and at this point IBM's standards are low," Cringely said. "The fact that they've got 10 apps now is, I think, a miracle. If you'll recall at the announcement they expected to have 100 by now. Why don't they have 100? They don't have 100 because they couldn't get 100 to pass."
The Bottom Line:
IBM earnings didn't present too much to get excited about. Nor was there any true reason to jump on IBM stock ahead of IBM earnings yesterday. Nonetheless, the bulls came out in full-swing with a flimsy case for the stock. IBM stock has hope in the long term,
which we covered Sunday
. But the pre-IBM earnings analysis made the wrong case, one based solely on IBM's lofty promises that have yet to truly be delivered on.
Exclusive Interview on IBM, Its Stock Price, and Its Future: We spoke to tech blogger and author of a recent book on IBM, Robert X. Cringely, to get his take on where this former tech leader is headed...